Whether you are a large or small venue, performing arts organization, museum or attraction, non-profit performance space, university or college campus, regional ticketer, concert promoter or music festival organizer, it is important to create a great customer experience when you sell tickets online.
You may be wondering how to increase ticket sales, what is the best ticket selling software, how to sell tickets online or how to improve the online purchase journey for your customers. You've come to the right place to get answers to those questions and more.
At AudienceView, we help get live events discovered, attended and remembered. Our online ticket sales software, audience growth tools and client communities work together to help you sell tickets to your event and create event magic.
Plus, our team of live event, entertainment and online ticket sales software experts is here to help you every step of the way.
Who is AudienceView? Well, we are the online ticket sales software team that you need to know.
AudienceView has spent two decades building ticket selling software and we have a 25-year history in performing arts. Our company has more than 3,500 clients across nine countries, sells 110+ million tickets annually and processes $3 billion in tickets and fundraising transactions per year.
Add to that 1.8 million opted-in consumer newsletter subscribers, our 15+ million monthly consumer social reach and 2.3 million consumer social media followers.
Indeed, AudienceView is the leading expert when it comes to ticket selling software, how to sell tickets online and how to increase ticket sales.
What Do I Need to Sell Tickets Online?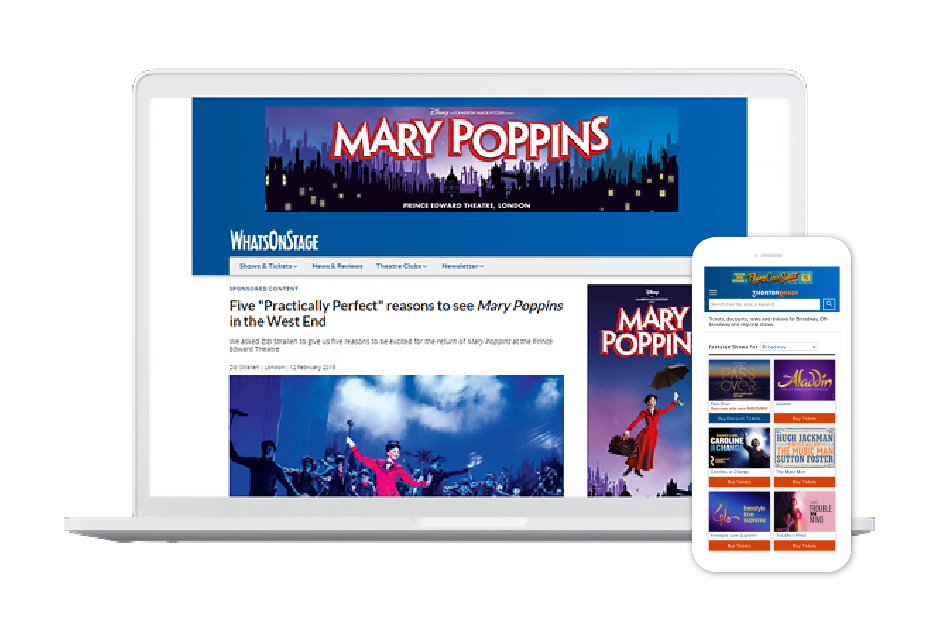 Everyone who organizes and hosts events needs ticket selling software. And AudienceView is the only online ticket sales software with audience growth built in. 
Audience growth solutions help sell tickets to your event, create brand awareness, extend overall reach and gain insights into your customers. How exactly is that achieved and how can ticket selling software help grow an audience?
At AudienceView, in addition to our online ticket sales software, we run highly successful online consumer properties with millions of subscribers and followers.
These media sites include TheaterMania.com, which offers arts enthusiasts unique reviews, news and insight into the world of Broadway, off-Broadway and across the United States, and WhatsOnStage.com, which offers show tickets, special offers, news and reviews for West End, Off-West End and across the UK.
Advertising Helps Sell Tickets to Your Event
AudienceView knows the business of theater and we are passionate about making sure you get results via our highly targeted and extremely engaged audiences.
Our media and consumer sites have a captive following that loves to attend live events. To sell more tickets, you can create an ad campaign in minutes using AudienceView's Campaign Manager. The ads you create will reach the right people – theater ticket buyers and event goers who are ready to click the buy button.
AudienceView Campaign Manager is easy to use and gives you complete control via a secure platform. In just a few simple steps, you can create an account, select and segment your audience, upload your creative, determine how much you want to spend, activate your campaign and review/monitor performance. It's easy to get started and see immediate results.
Still want to know more about how AudienceView Campaign Manager can help sell tickets to your event? Here are some important highlights:
Targeted monthly audience of 2+ million arts enthusiasts across consumer/media websites
Low cost (low CPMs) makes it easy to test campaigns and find the best performing sections
High return on investment
Campaign visibility and accurate reporting
Secure platform with credit card bookings transacted through trusted payment processor
It is also important to understand the elements of highly effective online ads, which include aesthetics (e.g. a well-designed ad), clear calls to action, the frequency with which your ad is served, considering higher CPMs that can yield better results, mobile-friendly design, timing and A/B testing.
Understanding the basics of online/display advertising, especially when it comes to display ad sizes, will further help to increase your success.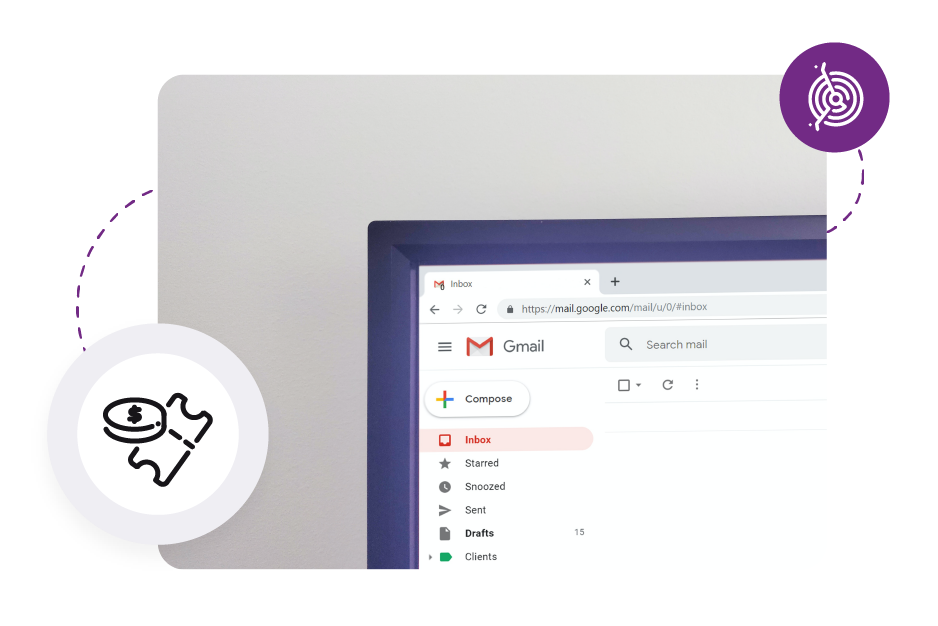 Email Reach Helps Reach Your Big Goals
Reaching new audiences can increase your revenues when you sell tickets online. AudienceView's email list boasts 1.8 million dedicated theater-goers who have opted-in to receive our emails. They want to stay in the know and see the very best shows.
Local, regional, national, West End, Broadway and Off-Broadway audiences are literally just an email send away. AudienceView can help when you want to create an email campaign today, find a new audience and learn how to increase ticket sales online.
Of course there are essential email marketing key performance indicators, or KPIs, that live event organizations must measure to reach their goals. These include conversion rate (the percentage of people who bought tickets or registered for your event), open rate (the percentage of readers who opened your email), clickthrough rate or CTR (the percentage of people who clicked on links in your email), as well as the forwarding and unsubscribe rates.
Learn more about TheaterMania.com and its active, devoted consumer community by downloading our media kit.
Sponsored Content to Support Ticket Sales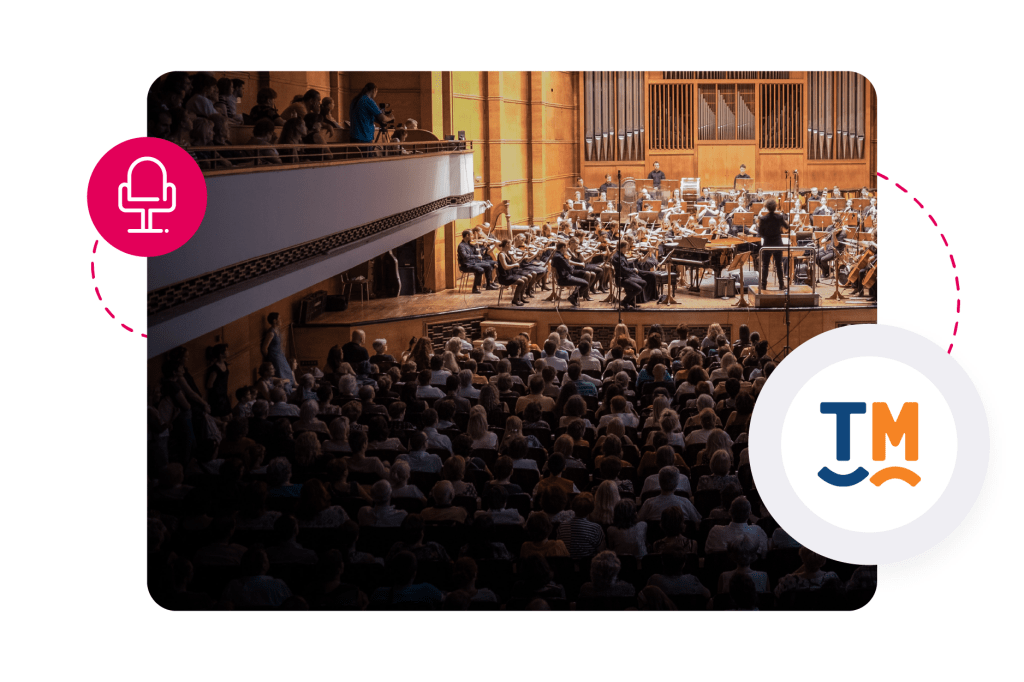 Our editorial team is highly respected by our audience and the industry at large. Need to provide a boost for your programming, fundraising initiatives or simply sell tickets to your event? Work alongside our writers and editors to produce new content to promote your show or cause.
Sponsored content is published on TheaterMania.com or WhatsOnStage.com and seen by millions of passionate live entertainment fans. It will also help boost your SEO efforts and web traffic through backlinks from high domain authority.
Automated Listing Distribution
Another excellent way to boost exposure for your events and sell tickets online is to gain greater reach through our ticket selling software. How exactly? It's as easy as the flip of a switch (well, it's actually a toggle, but you get the point).
When you create a new event or show using AudienceView online ticket sales software, you can choose to automatically list and promote your shows to millions of passionate event goers. Then, anytime you make changes, those changes get synced with the live event listings on TheaterMania.com. See how it works here.
Showcase Your Venue
Arts enthusiasts want to do more than just visit the website where you sell tickets online, make a purchase and attend a show. Many are invested in and deeply curious to learn more about the unique history and mission of your venue – and that is a story worth telling.
Inspiring Stages from TheaterMania shines the spotlight on performing arts organizations that sell tickets online across North America. It is a celebration of organizations that bring immense value and joy to the public through events, arts education and other programming.
Being featured on the Inspiring Stages platform is an exclusive benefit for AudienceView software clients.
Another Way to Sell Tickets Online and Fill Even More Seats
TheaterMania Gold helps organizations build buzz, create future audiences, move allotments quickly and discreetly, with offers visible only to members. And because TheaterMania Gold will sell tickets to your event, you can also use the membership platform to fill the house last minute for VIP performances and energize your audience with our engaged members.
With a monthly or annual membership, consumers experience events like never before – from Broadway to comedy, music to magic, and more. They gain access to exclusive content, experiences, perks, presales, dining offers and discounts.
List Your Events via AudienceView's Ticket Selling Software
Growing your reach helps to sell more tickets online. Listing your next show or event on TheaterMania.com is available exclusively to AudienceView online ticket sales software clients.
This is another promotional channel you can use to get the word out about your next show, how you sell tickets online, or use as a high value backlink to grow your organic search traffic. Whether you are in Los Angeles, New York City or Fargo, your listing will populate right from your AudienceView ticket selling software product.
Why should organizations list their events on TheaterMania?
First, it's free. The ticket buyers are there, with more than 15,000 people per month clicking on "Buy Ticket" links as we emerge from COVID-19 lockdowns.
Second, it works. Organizations are driving incremental ticket sales representing a sizeable percentage of their earned revenue.
Want to know more about the success of listing events on TheaterMania.com? Check out stats – and learn about the SEO bonus – in this article.
The Audience Built by AudienceView
At AudienceView, we build more than great ticket selling software. We also build engaged audiences. And while we don't mean to boast, our reach is significant:
3.8 million average monthly page views
15.8 million monthly interactions across all consumer properties
2.3 million social media followers
1.8 million opted-in email subscribers
Want to know more about the following we've built and nurtured over the years?
60% female and 40% male
80% college educated
70% attended 7+ live events in the past 12 months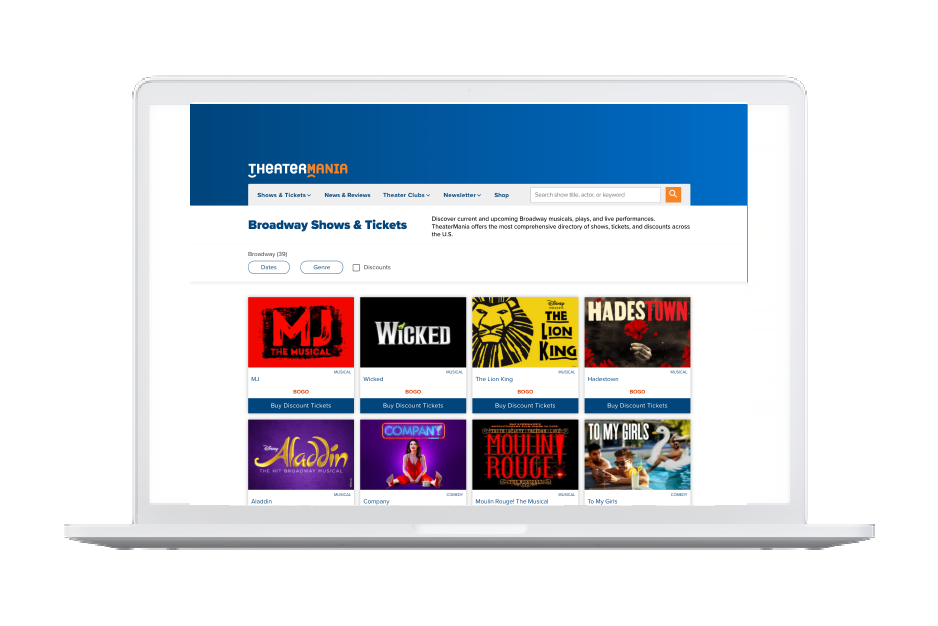 Micro-moments Marketing to Sell Tickets Online
When they are not actively engaged with media sites like TheaterMania and WhatsOnStage, live events audiences are casual browsers. More simply put, they pull out their phones whenever they want to know something, go somewhere, do something or buy something.
Micro-moments help shape our preferences and make decisions, so this casual browsing can mean big business when it comes to how to increase ticket sales.
To learn more about micro-moments, different types of micro-moments and six tips to get started, we recommend downloading "Micro-moments: a guide to engaging customers and filing seats." It's a great way to learn additional best practices around how to sell tickets online, while keeping customers engaged and coming back for more.
Microsites and Landing Pages
A microsite is an individual website or cluster of pages that complements an existing website. Landing pages are similar and can be described as a single page that helps a consumer take the next step towards becoming a customer.
Separate from your main website, microsites and landing pages deliver more focused content, often on a specific topic, for a targeted audience. They aim to drive that audience to do something via a compelling call to action, such as buy tickets through your ticket selling software.
CRM to Enable Smarter Campaigns and Intelligent Targeting
AudienceView's online ticket sales software offers all-in-one customer relationship management (CRM) and ticketing. A strong CRM that connects seamlessly with ticket sales and fundraising data is vital for any live event organization.
It's how you capture information and create long-term relationships with your customers.
Having and safely storing general information is important to sell tickets online. Think name, postal code, profile and job title to start. Then there are other elements that help sell tickets to your events, generate add-on revenue, attract donations and more. These may include the ability to see previous purchases, donations and answers to any buying checkout questions you have asked.
And don't forget the importance of reporting and analyzing all the data in your CRM, which you can do easily with AudienceView's ticket selling software.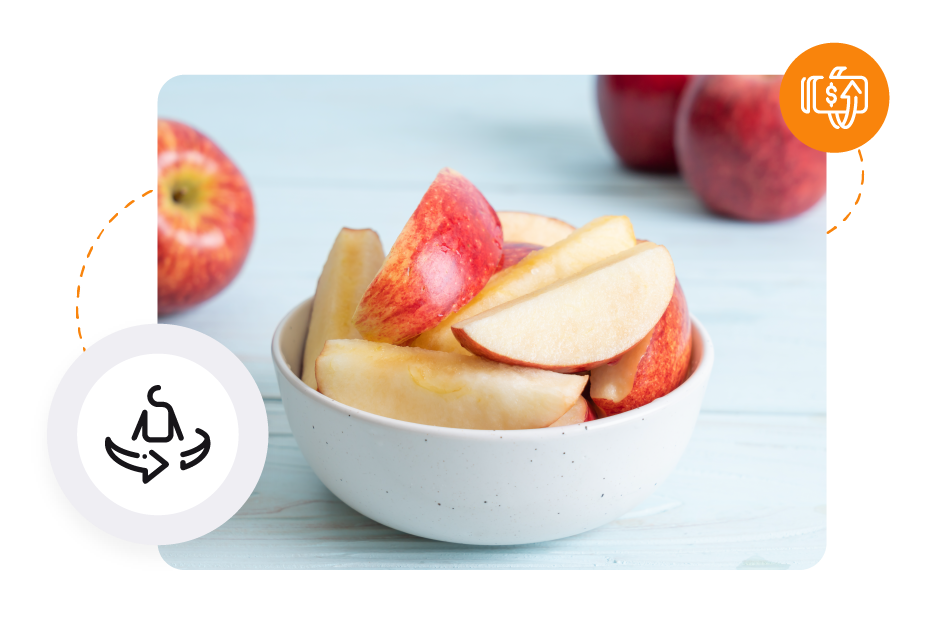 Reduce Inconveniences to Create Opportunities
Having a robust CRM helps when it comes to the overall customer experience – so does removing barriers. And sometimes the answer is more obvious than you think if you pay close attention.
Case in point, and stick with us here, kids will eat more apples if you slice them.
What does that have to do with ticket selling software or when we want to sell tickets online?
Well, an insightful article in the Washington Post explains in great detail how a group of researchers found that "fruit consumption jumped by more than 60 percent when apples were served sliced."
The article continues, "And a follow-up study, conducted at six other schools, not only confirmed the finding, but further strengthened it: Both overall apple consumption and the percentage of students who ate more than half of the apple that was served to them were more than 70 percent higher at schools that served sliced apples.
"It sounds simplistic, but even the simplest forms of inconvenience affect consumption," said David Just, a professor of behavioral economics at Cornell who studies consumer food choices, and one of the study's author.
Here are the words to remember and that relate to how you sell tickets online: "even the simplest forms of inconvenience affect consumption."
This is true when it comes to any consumer action. Including ticket sales.
So, take a step back and study your organization from the customer's perspective. When you want to sell tickets to your event or are thinking about how to increase ticket sales, look specifically for inconveniences that can be transitioned into opportunities.
This can be as easy as accepting credit cards for everything you sell, adding more staff to busy gates to reduce lines as people enter your venue, offering pre-paid parking or including a hand wipe when you sell messy food, like nachos and cotton candy.
Today's Customers Want Flexibility
The pandemic has created new habits and desires for consumers of live events. They want greater flexibility when spending their discretionary entertainment dollars.
Of course, there will always be customers who want season subscriptions, but not all of your guests want to be locked into holding a seat for every show. Especially today.
What does this mean for your organization when you want to sell tickets online beyond just individual shows?
Enter the flex pass, which gives consumers more choice and flexibility.
It is a modern-day way that many AudienceView clients are using to successfully sell tickets online. The flex pass (known as Flexible Packages in AudienceView Professional) allows consumers to buy a block of tickets that can be used for a single performance or spread out over the course of the season.
The Gulfshore Playhouse in Naples, FL sells flex passes in blocks of six, eight or 10 tickets. As an example, a 10-ticket pass can be split into pairs across all five mainstage shows, used as five tickets for one show and five for another, or anything in between.
It's really a win-win. Gulfshore Playhouse customers can build the experience that best fits their needs, schedule and preferences. They also enjoy exclusive benefits and savings of up to 20% over single tickets. The organization increases sales beyond a single show. What a great way to sell tickets online to your event with built-in flexibility that today's consumers crave.
Another example is Pasadena Little Theatre in the Greater Houston area, which sells a six-ticket flex pass membership card. Purchasers can see up to six performances during the season or bring friends and family. Either way, they have six punches towards tickets to all their regular season performances.
The Tred Avon Players in Oxford, MD offers a season ticket flex pass for $70. It gives their patrons one ticket for any of the upcoming four productions – or the option to use all four at once. Existing flex pass holders can also buy a supplemental flex pass to add two more shows to their current plan.
Ultimately, flexible packages can be used in different ways to suit your season and set up.
Gift cards that can be redeemed online are another great way to offer customer flexibility via your ticket selling software.
Give Buyers the Confidence to Book
Many of today's customers are buying tickets closer to the show than in the past. And there are many reasons for this change in behavior.
Thinking back, many live event goers have missed an event that has been on their calendar for months. Maybe the weather made it impossible to get to the venue. Perhaps their car broke down, they were in an accident or became gravely ill.
Add a global health crisis to the mix and consumers are seeking new degrees of certainty.
By offering refund protection as an add-on during the purchase journey when you sell tickets online, customers have peace of mind when life gets in the way. Purchasers who protect their tickets can apply for a full refund when certain unforeseen circumstances occur and they can't make it to an event.
Refund protection is also good for your bottom line because it increases revenue when you sell tickets online to your event.
Offered through AudienceView's partnership with Booking Protect, refund protection is a great way to provide consumers with the confidence they need to buy tickets – and to buy them well in advance.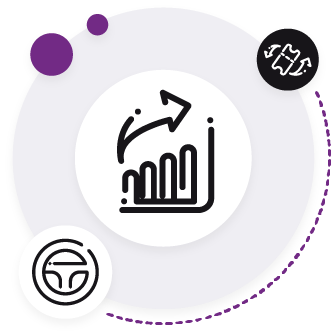 Summary
Every organization that uses ticket selling software to sell tickets online wants to create a great customer experience, especially as they consider how to increase ticket sales.
By partnering with AudienceView to sell tickets to your event, organizations can leverage the only online ticket sales software with built-in audience growth strategies. Request a demo today to get started.