MORE ONLINE TICKET SALES AND DONATIONS
Enhance Your Patron Experience
We empower you to optimize your online sales and donations while delivering an exceptional patron experience. Discover how our comprehensive solution puts your brand first, simplifies ticket purchases, increases conversions, and integrates product and donation sales.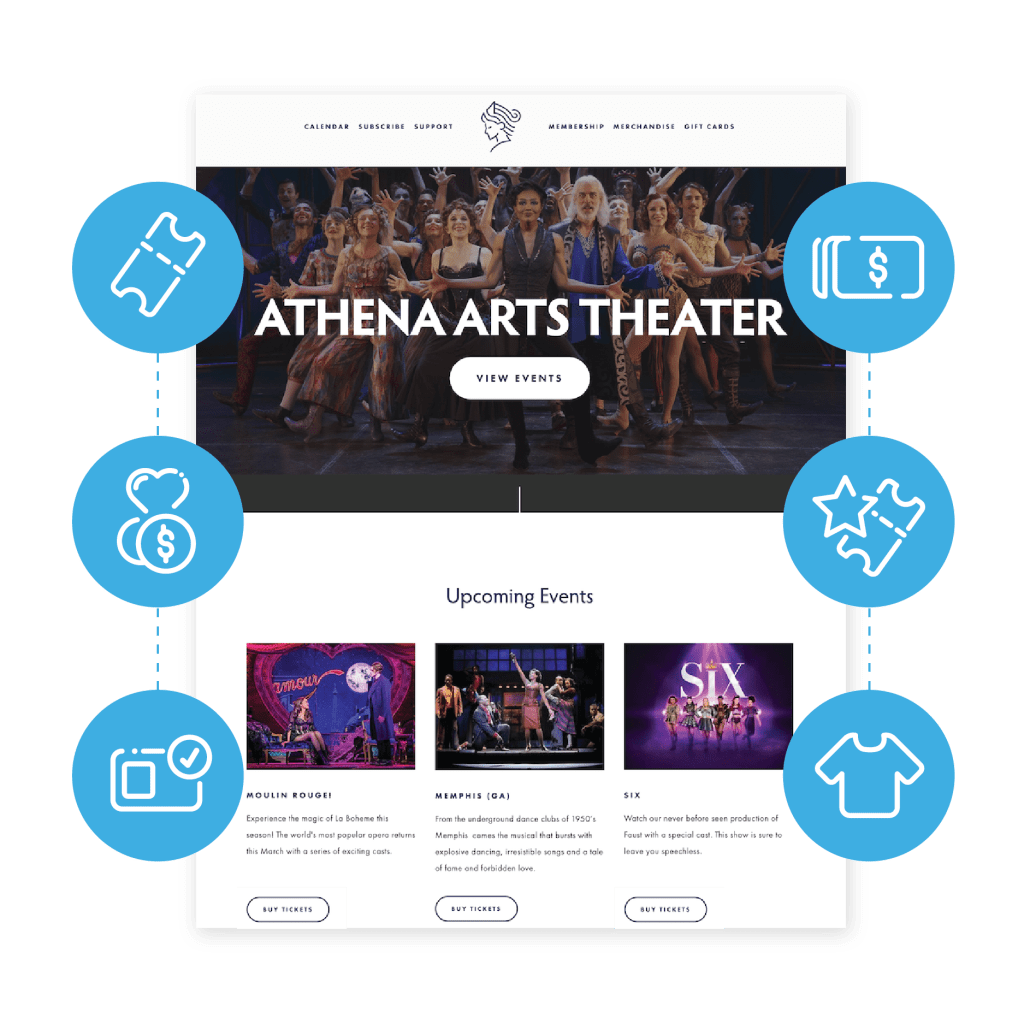 Show Your Brand
Your patrons care about your brand, not ours. That's why our white-label solution puts your brand front and center and gives you control of patron-facing branding elements.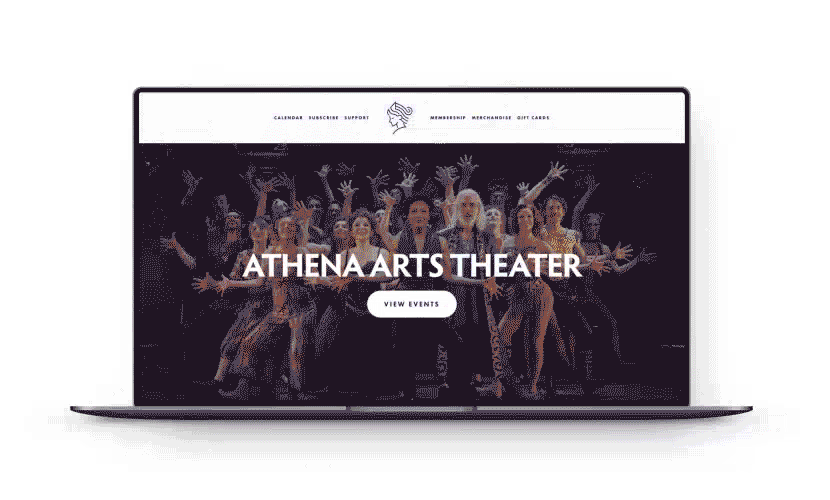 Make Event Discovery & Ticket Purchase Easy
Providing a great ticket purchase experience is critical to your success. From landing on your homepage to selecting seats from your custom venue map to submitting their purchase, patrons will experience a frictionless journey that makes purchasing tickets seamless and exciting.
Bespoke event page that can include custom imagery and event descriptions.
Calendar and list views of your events.
Easily redeem subscription, member, or flex pack tickets online.
Easy package & subscription auto-renew option.
Package purchasers can choose their events & tickets while checking out, or buying the package now and choose tickets later.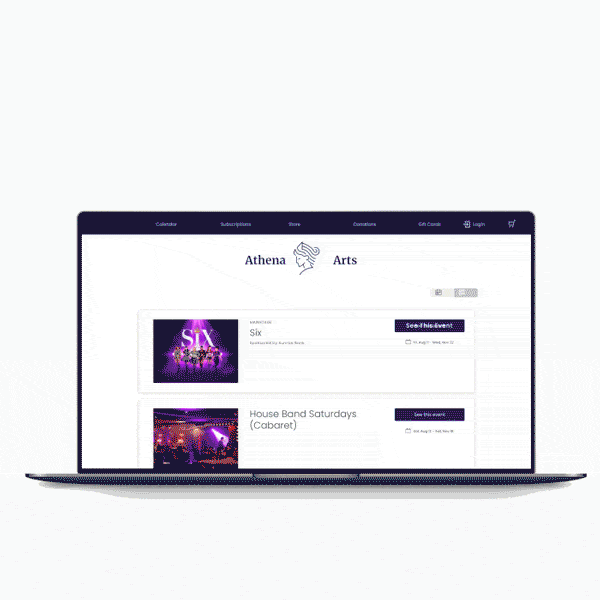 Convert More Sales
Surprise parties are fun. Surprise fees are not. In fact, surprise fees during checkout are the #1 reason for cart abandonment. That's why we put you in charge of your fees, and provide fee transparency to your patrons from the moment they select a seat through to submitting an order.
Complete control over fees. You choose what your patrons pay.
Static cart summary throughout checkout, with no surprises.
Quick, intuitive 4 step checkout.
Consumers demand flexibility and peace of mind, with demand for ticket protection having grown 200% since pre-covid. With embedded ticket protection by XCover, available during the checkout process, live-event attendees have the option to add ticket protection for any event. XCover's embedded ticket protection has been shown to grow buyer confidence and boosts conversion rates by 8%.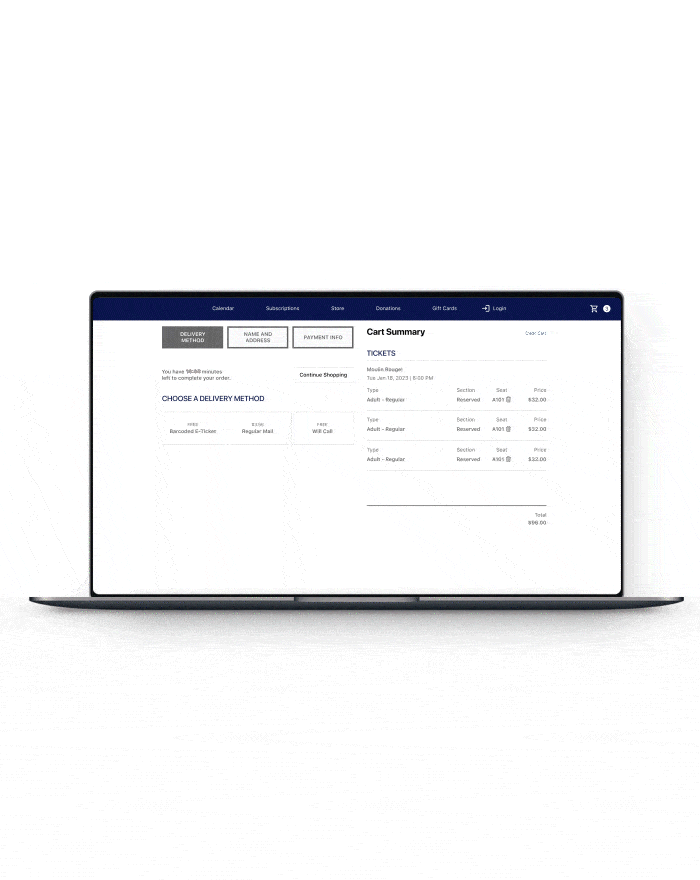 AudienceView helps my small theatre keep up with my ticket sales and my fundraising. It also gives options to connect with my patrons when they buy tickets. There are so many pieces to this program that help my business to grow.
Integrated Product & Donation Sales
53% of donors want to make their donation online*, either during the ticket purchase process or separate to it. That's why online donations are made easy on AudienceView Professional.
Donations asks can be embedded in the ticket purchase process, or simply live on a dedicated campaign page.
Dedicated storefronts for memberships and donation campaigns with customizable campaign pages that showcase tiered member benefits.
Donation denominations can be customized and pre-set and/or allow patrons to enter their own amounts.
Pre-set donation frequencies.
Anonymous donations and company-matching functionality.
Products like merchandise, parking, or supplies for classes can easily be sold on a dedicated storefront where patrons can browse any merch, gift cards, or even products like parking, drink vouchers, and post-show meet & greets. Product offers can even be embedded in the purchase flow to grow up-sells!
*Navigating a New Landscape: Insights on Attendee Behavior, AudienceView, March 2023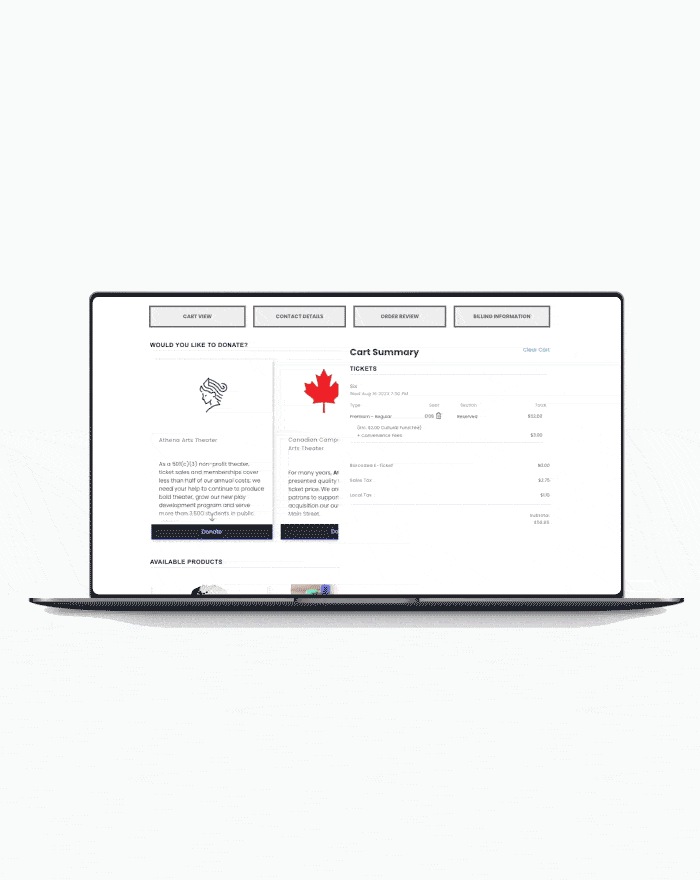 Deliver an Intuitive Patron Experience
While 2/3 of patrons want to make their ticket purchase on a computer, only 1/3 want to print their tickets at home. That's why it's imperative to offer your patrons the flexibility they need to receive tickets how they prefer.
Receive tickets through email, mobile devices, or at will call.
Mobile responsive interface that ensures easy and intuitive buying journeys.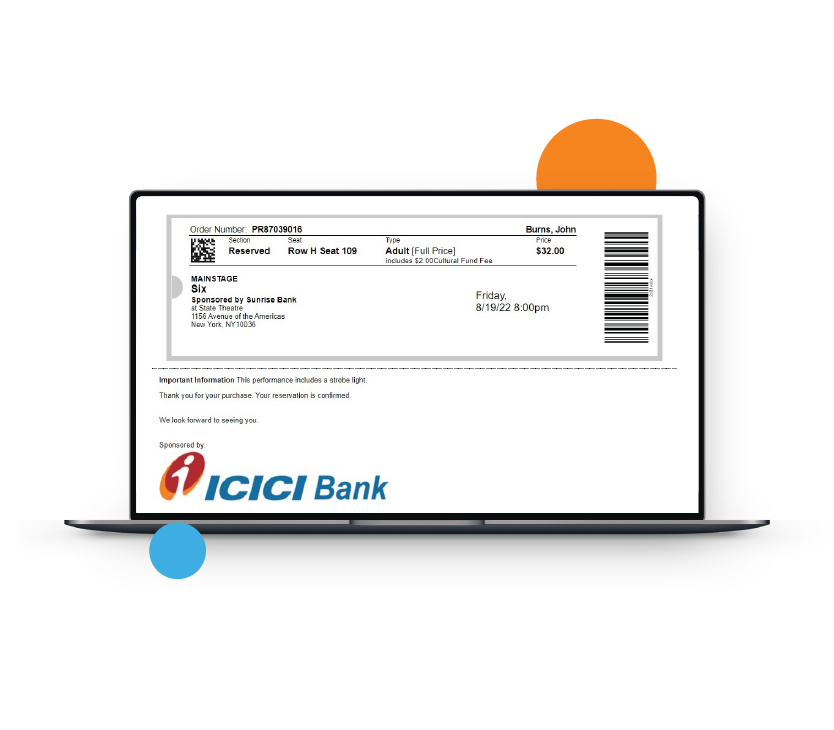 Want to see more? Questions?