The Joy of Experiences Over Things
James Hamblin's 2014 article, Buy Experiences, Not Things, resonated with so many at the time and remains relevant today.
In essence, the piece explains why experiences tend to make people happier than material goods: "Experiential purchases like trips, concerts, movies, et cetera, tend to trump material purchases because the utility of buying anything really starts accruing before you buy it."
While performing arts organizations must embrace this concept and profit from the experience economy, it's equally important for them to make it easy for people to gift experiences, not things.
Beyond the traditional holidays each year, consumers spend a great deal of money on gifts for birthdays, anniversaries, milestones or just to say thanks. As our industry re-opens, it's time for theaters to take a larger piece of the gift-giving economic pie.
The biggest obstacle to gifting an experience – and more specifically a ticketed event – is ruining the surprise by asking the recipient for dates when they're available. This is easily overcome by selling gift cards that can be redeemed for tickets to a show, a flex pass and much more.
Facilitating Experience Gifting with Gift Cards
The La Crosse Community Theatre (LCT) promotes the gift cards they sell on their website as "the perfect present for long time theatre lovers, those just starting to explore the arts, and everyone in between." Recipients are encouraged to use them year-round to see any LCT production, enroll in an LCT class or camp, or attend a special LCT event. Their gift cards, which never expire and can be purchased in any amount, can be delivered via email or printed at home.
LCT also has a very in-depth gift card help page on their website that explains how to redeem the code, how to check their balance and more.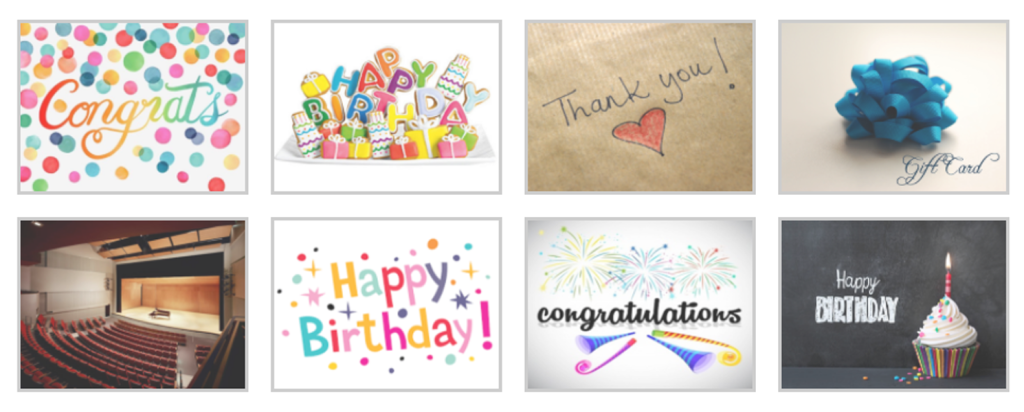 The Madison Theatre at Molloy College in Rockville Centre, NY offers 15 different gift card designs for purchase on their website. In addition to their core designs that feature an image of their theater, shoppers can choose from cards that say Happy Holidays, Congrats, Happy Birthday or Thank You.
The personalization of the print versions, which are fold-friendly so that they fit into a standard envelope, goes beyond selecting the artwork on the cover. A quick form that includes fields like to, from and personal message allows for the gift-givers to add their own style.
The AudienceView Professional ticketing platform makes it easy for performing arts organizations to sell gift cards and for their customers to redeem them online, over the phone or in person. Each gift card is assigned a unique code that can be used to donate or to buy tickets, memberships and merchandise.
Watch this short video to learn more about our gift cards functionality: