In a strategic endeavor to champion their Tony-nominated musical, a major Broadway theatre organization, and AudienceView client, partnered with TheaterMania, the go-to online platform for theater aficionados across North America. This alliance resulted in exceptional outcomes, epitomizing the reciprocal advantages of merging their brands. By employing multifaceted promotional techniques, TheaterMania demonstrated expertise in engaging theater enthusiasts and boosted ticket sales by an impressive 20% in just a few weeks.
For optimal visibility of the musical, TheaterMania utilized every tool in their kit: Run of Site Advertising, Featured Listings, Newsletter Inclusion, Facebook Retargeting, Email Retargeting, Social Media outreach, Editorial content, and the influential Top Six Email campaign. This multifaceted strategy guaranteed extensive engagement and interaction with theater lovers across channels.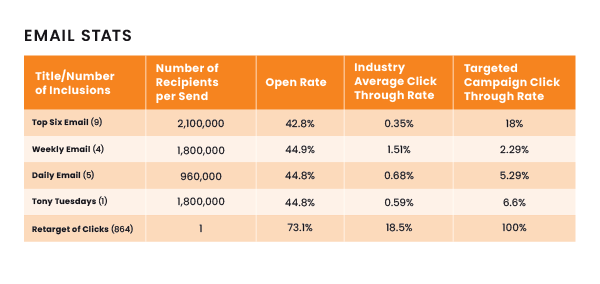 While some skeptics challenge the efficacy of email campaigns, TheaterMania's endeavors cemented their potency in escalating ticket sales and user engagement. The Top Six drive spotlighted captivating elements of the musical, achieving an astonishing open rate of 42.8% and an impressive click-through rate of 18%. These results underscore the effectiveness of targeted email marketing in capturing interest and driving action among theater enthusiasts.
All of TheaterMania's tactics outpaced industry standards, eliciting remarkable impressions and click-throughs. For instance, the Run of Site Advertising initiative amassed 300,000 impressions, and achieved a click-through rate of 0.22%, surpassing the benchmark of 0.18%. Notably, the Facebook campaign alone boasted an impressive 63,000 impressions and achieved an outstanding click-through rate of 4.30%, far exceeding the benchmark of 1.87%.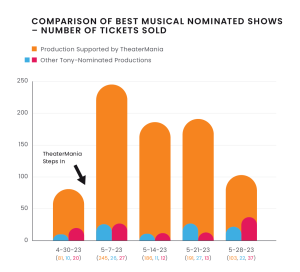 Owing to TheaterMania's commitment, the musical witnessed groundbreaking outcomes, both in volume and value of tickets sold. The average ticket price via TheaterMania reached $122.96, outperforming the reported average ticket price of $98.25 by an impressive $24.44 per ticket. Comparisons with other shows nominated for Best Musical further highlight the production's outstanding performance. Weekly average ticket sales surged, resulting in additional revenue of approximately $13,000 to $20,000 per week. These findings emphasize the substantial impact of TheaterMania's involvement on the success of this Tony-nominated client.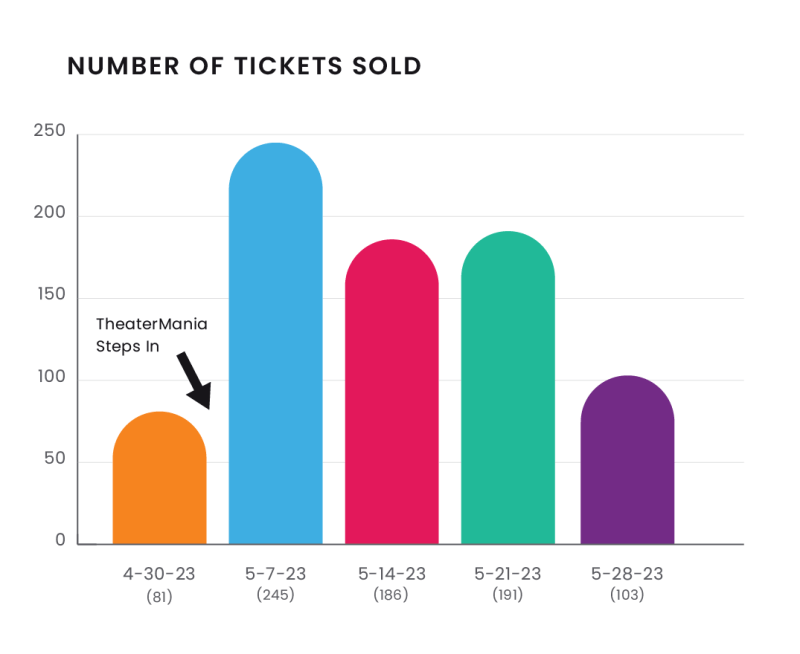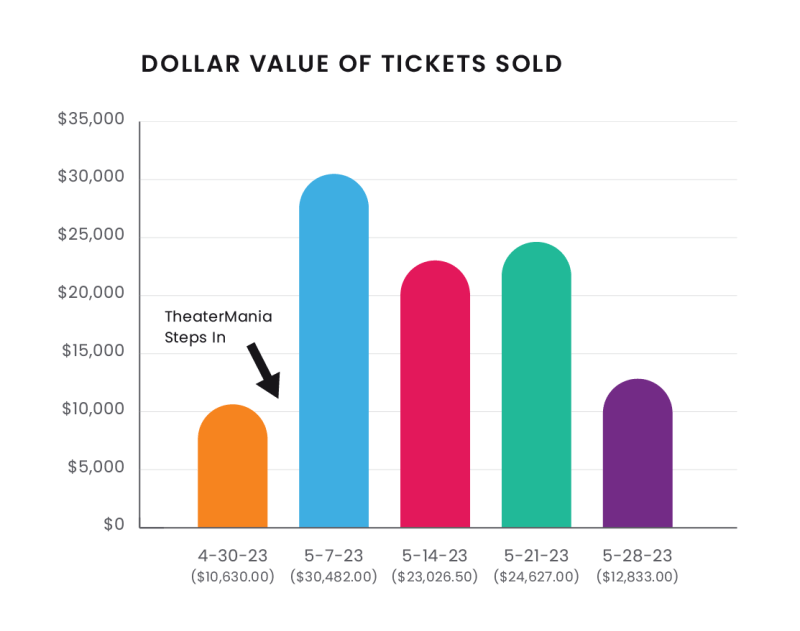 "Our team is incredibly excited about the outstanding results achieved through this partnership", said Joseph Guglielmo, Director of Consumer Ticketing at TheaterMania. "It leads us to believe that with the extension of TheaterMania's proven promotional methods and expertise to other productions, we could boost sales significantly. These results underscore the immense value and promising growth opportunities that lie ahead for us."