For over twenty-five years, AudienceView has been empowering our clients to achieve and surpass fundraising milestones. Every day, our cutting-edge software processes over six million dollars in ticket sales and one million dollars in donations. AudienceView Professional's robust reporting and analytics dashboards provide insightful data that drives decision making, while detailed donor profiles offer an in-depth understanding of contributors, making personalized outreach and relationship building simpler than ever.
Between 2019 and 2022, 15 clients utilizing AudienceView Professional for fundraising witnessed a remarkable 71% surge in donation dollars. Our clients experiencing consecutive fundraising success also brought in an impressive total exceeding $1.6M to date. Below, we outline the data-centric strategies that have propelled these AudienceView Professional clients to fundraising success.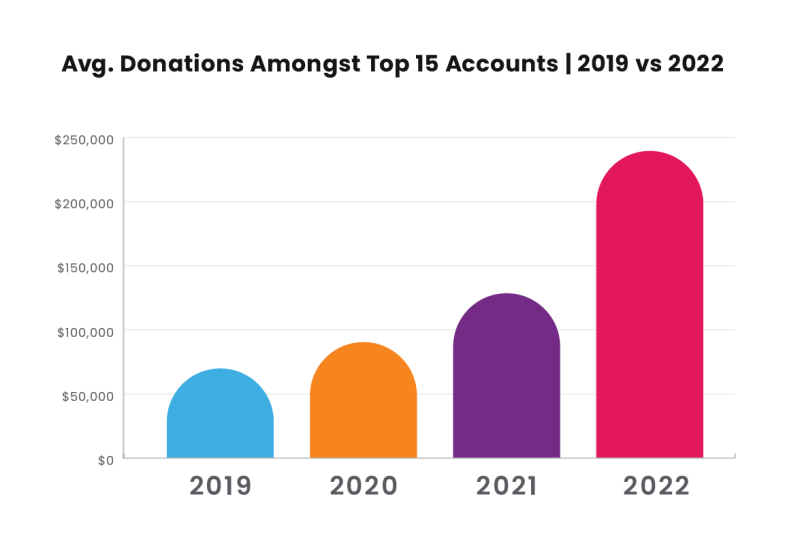 Factors Driving Success
The fundraising accomplishments of AudienceView Professional's clients can be traced back to thoughtful campaign strategies, a keen understanding of audience demographics, streamlined checkout experiences, and well-crafted incentives. Let's explore this blueprint of success.
Targeting
Demographic targeting is essential for an effective fundraising strategy. For instance, the Mid-Texas Symphony has benefited immensely by focusing on an older demographic keen on transitioning to philanthropic roles. This demographic is especially valuable, not only because of their disposable income but also due to their strong desire to invest in their community, especially in institutions that hold significant meaning to them.
"Targeting retirees isn't just about tapping into disposable income; it's about partnering with individuals who have a lifetime of experience and a desire to leave a legacy that inspires future generations."

Jason Irle, Mid-Texas Symphony
Unsure about your target donor demographic? With AudienceView Professional, you can analyze data from your regular customers, pinpoint your venue's most avid supporters, and employ our custom tagging feature to craft specialized segments. Discover which Patrons to nurture into donors with our household relationship builder. These will be invaluable for your upcoming campaigns.
Optimizing Donations at Checkout
Analysis of over 800 clients using our Professional platform revealed a consistent theme: making donations effortless and seamless can significantly increased participation. Out of these 800 clients, our higher-performing clients understand that even small contributions, when accumulated over time, can lead to substantial results.
These clients achieved growth in terms of generated donation dollars by offering a streamlined donation experience at checkout allowing patrons to easily contribute without feeling overburdened, leading to more consistent giving.
Clients who eliminated minimum donation limits and introduced preset donation levels starting at $10 experienced a significant increase in participation. By lowering the bar for entry, they made it more accessible, allowing more people to make a meaningful impact without needing substantial financial resources. These clients tapped into a larger supporter base, ultimately leading to more successful campaign outcomes.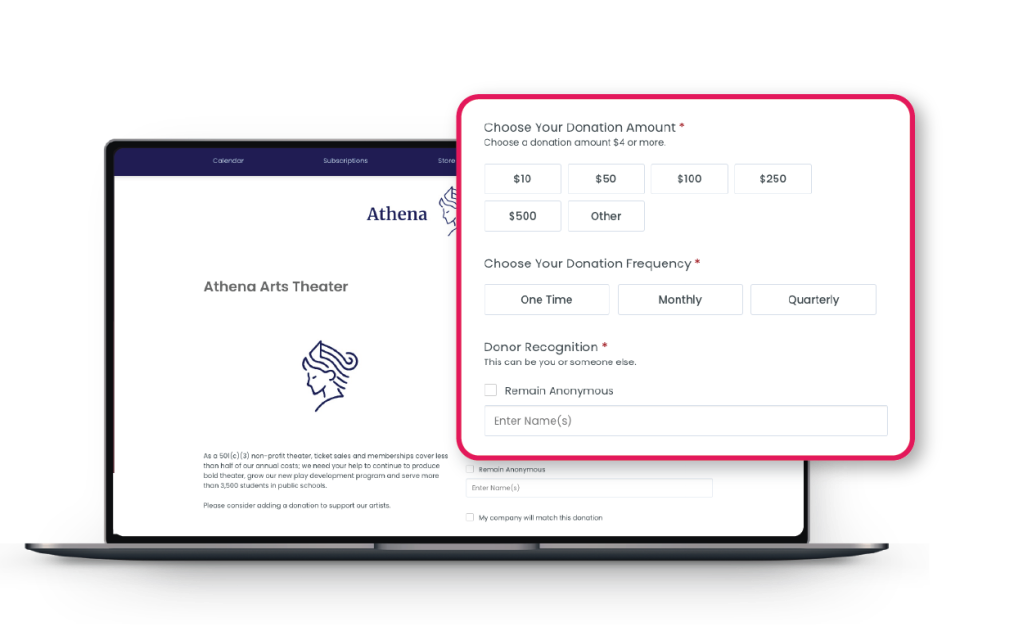 Donor Preferences and Incentives
Our recent Consumer Report: Navigating a New Landscape: Insights on Attendee Behavior, emphasizes the significance of incentives and public goals in motivating donors to contribute more frequently and generously. In this report, 50% of donors stated that they feel more compelled to donate when provided with early and/or exclusive access to future ticket sales.
In addition to early and/or exclusive access, 50% of donors reported they would be more likely to donate to specific fundraisers with public goals.
The Falany Performing Arts Center at Reinhardt University is a perfect example of this as they enrich the donor experience by hosting exclusive events that grant patrons unique privileges, such as season previews and advance access to purchase the best seats. By making donors feel special and integral to a community of like-minded supporters, the center fosters a sense of belonging.
Learn more about Reinhardt University's fundraising success here.
It is quite apparent that when venues set clear and public goals for their fundraising campaigns, donors are more likely to feel a sense of purpose and accountability in their contributions. This transparency not only builds trust but also provides donors with a tangible understanding of how their dollars are being used. Embrace this principle by openly communicating how funds are allocated, showcasing the direct impact of donations.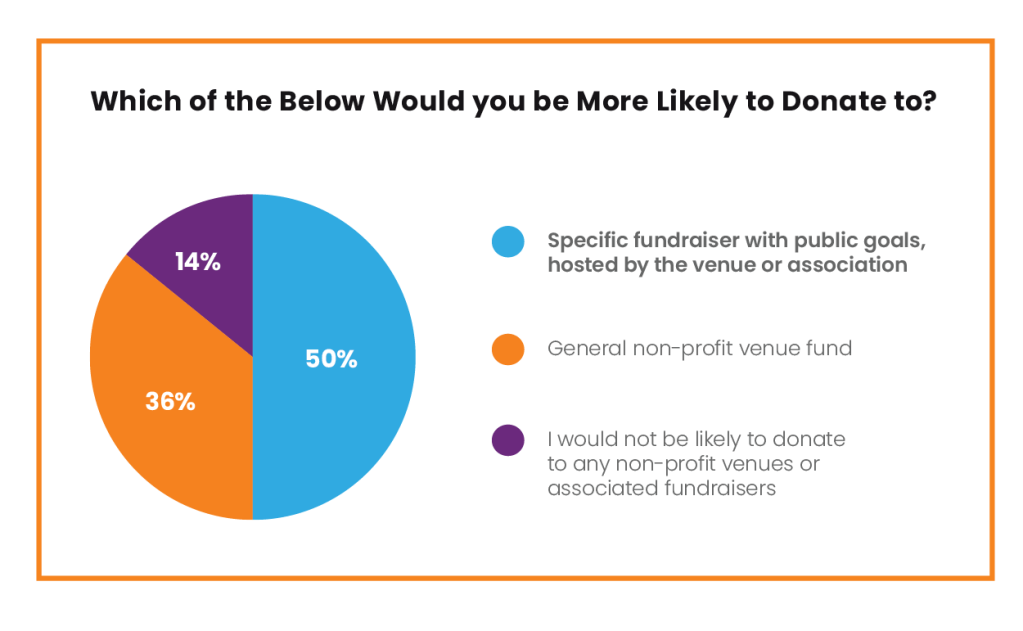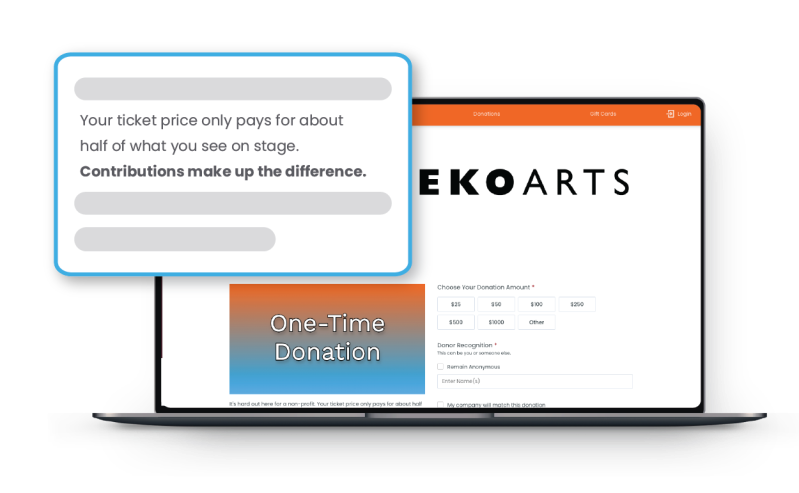 Messaging
We know the impact messaging plays in campaigns of all sorts. Thankfully, AudienceView Professional was built with the customization of fundraising campaigns in mind, allowing you to effectively communicate the purpose and detailed use of funds raised.
Successful fundraising campaigns are often marked by their willingness to experiment with strategies to identify what resonates best with their audience. Consider incorporating one of these proven incentives into your upcoming fundraising campaign: advertising opportunities, recognition perks, tickets/memberships, networking events, or exclusive behind-the-scenes access.
We'd love to help set up your next dynamic fundraising campaign! If you're ready to get started, click here to book a product demo.