If you are not doing so already, using cross-sells is an ideal opportunity to increase revenues for your live events organization.
What are Cross-Sells?
In online sales, cross-sells are conducted by offering additional items to the customer during the purchase process.
To illustrate the significance of this opportunity, an important stat to note is that Amazon gets 35% of its revenue from cross-selling. Additionally, AudienceView Professional customers using the cross-sell functionality on the platform see 3x more revenue per patron versus those who do not. So, it's safe to say, if you are not using cross-sells today, you are missing out on substantial revenues.
There are several ways that you can use cross-sells to grow revenue. Some popular cross-sell items for live events organizations include:
Concessions
Raffle tickets
Parking passes
Merchandise
Donations
For example, you can give your patrons the option to add a donation to their order in the checkout process. This can be done on the AudienceView Professional platform like in this example from the York Theatre Company.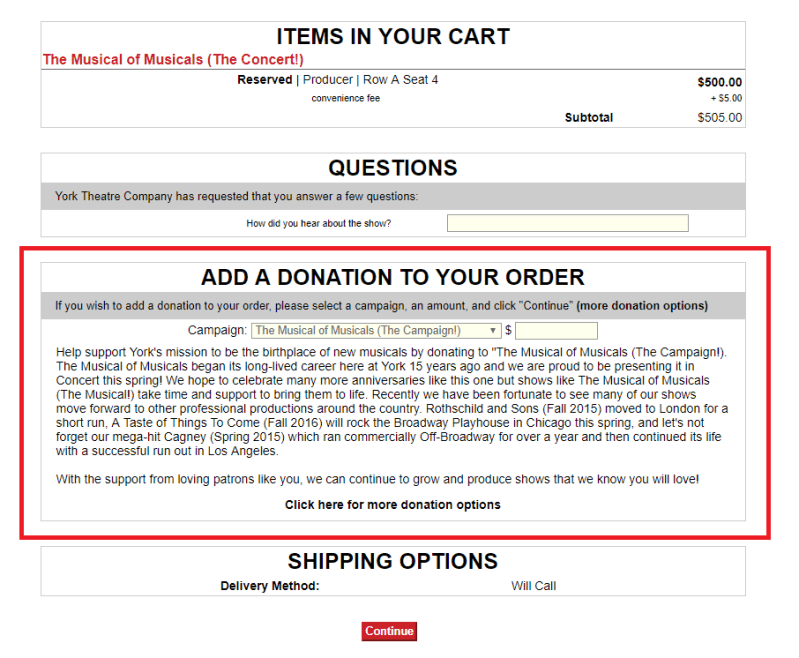 In this flow, the buyer is prompted to make a donation before completing a ticket purchase.
This is a particularly helpful feature to have, as the donation attach rate for online purchases is much higher than for phone or in-person purchases.
On the AudienceView Professional platform, while showing a donation cross-sell, you can also add a drop down menu to allow patrons to choose which campaign to donate to.
Merchandise is another popular option for cross-selling.
See this example, where AudienceView Professional client Vineyard Theatre organically embeds cross-sells into their checkout process to encourage patrons to add relevant items to their purchase.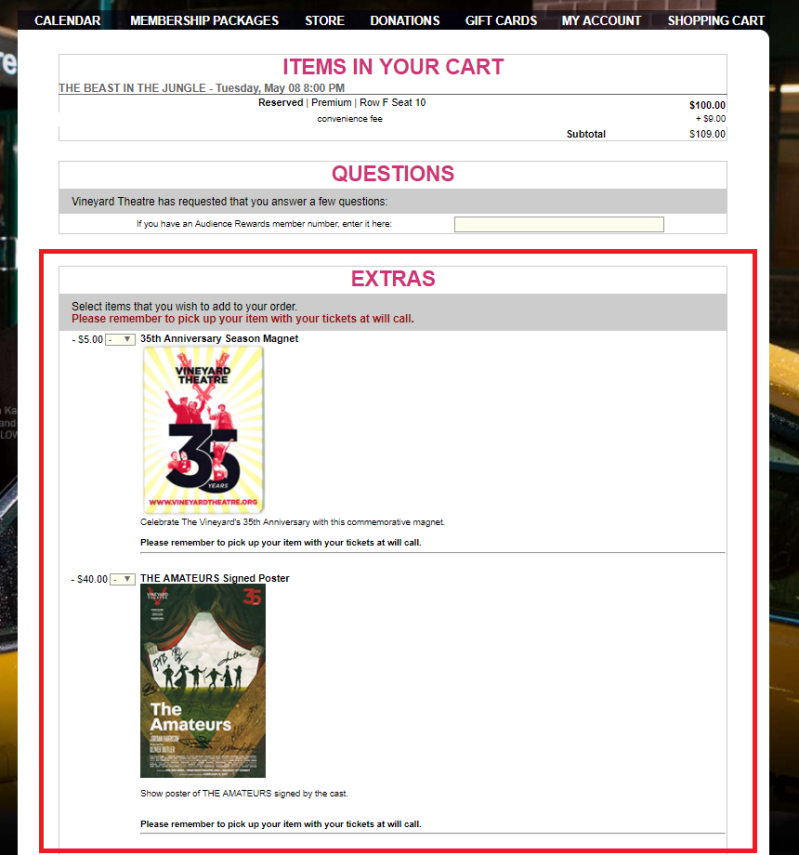 Other Benefits of Cross-Selling
Cross-selling also has other benefits to your organization outside of directly generating revenue.
When conducting a cross-sell, you are also getting additional data on that customer.
For example, if you successfully cross-sold parking passes to a patron, you then know that they likely drive to see events at your venue. You can then use this information to target them with parking offers or encourage them to buy parking the next time they purchase a ticket.
Customers who attend multiple events are less likely to churn. Cross-selling can help create that stickiness which will keep people coming back to your venue. This means more patrons that you can potentially turn into long-term subscribers.
Additionally, existing customers are easier to sell to than new ones. According to Hubspot, you're 5-10X more likely to sell to an existing customer than to a new prospect.
Some Things to Keep in Mind While Cross-Selling
Make sure that you are still offering your customers a good web experience while cross-selling. Make it easy to add additional items to their cart. Don't make it difficult or obstructive to their main purchase experience.
Make sure what you are cross-selling makes sense. Ensure that you are cross-selling items that will go well together. For instance, when asking for a donation associated with a ticket purchase, you should ask for a donation for a campaign associated with the show they are buying the ticket for.
Use email marketing to support your cross-sell efforts. Just because you didn't complete the cross-sell online, it does not mean that the opportunity is lost. For example, you can use email marketing to offer The Lion King tickets to those who purchased Aladdin, but did not bite on the cross-sell offer.
Need help implementing cross-sells at your venue? AudienceView Professional is an easy to use all-in-one ticketing, fundraising and CRM platform that allows you to intelligently cross-sell to your patrons and use that data to support future marketing campaigns. Schedule a demo today to see how you can get started.