As an industry leader for over 25 years and trusted partner for over 2,100 organizations globally, AudienceView enables our clients to achieve their goals by providing feature-rich software and strategic support. AudienceView Professional is our powerful live-event software that combines ticketing, fundraising, CRM, and robust data reporting. TheaterMania, our consumer ticket sales platform, promotes our clients' events to nearly 3 million performing arts enthusiasts across North America. AudienceView also offers a menu of Premium Services, for when clients need above-and-beyond assistance, such as custom on-site training, a website refresh, or 3D venue imaging. With the power of our tools and support at their disposal, AudienceView clients have achieved steady post-pandemic growth.
At the end of last year, we talked to our clients to further understand what their most pressing goals were heading into 2023. The results were clear with their 3 tops goals being:
We take a closer look at how we enable our clients to achieve these goals below
Selling More Tickets
We all know that the COVID-19 pandemic had a devastating effect on the live-event industry. While the latest TRG Arts study shows average ticket revenues across the industry are down by 31% and IBISWorld is reporting online ticket sales are down 33% from 2019 levels, our clients' data tells a different story. We took a closer look to discover how the AudienceView Professional platform enabled our clients to rebound from the pandemic – and why they were able to do so faster than the broader industry.
After analyzing the 900+ clients who have been on AudienceView Professional since 2019, the results are in. AudienceView Professional clients have returned to 98.5% of their ticket sales – whereas the market and other ticketing software can't say the same.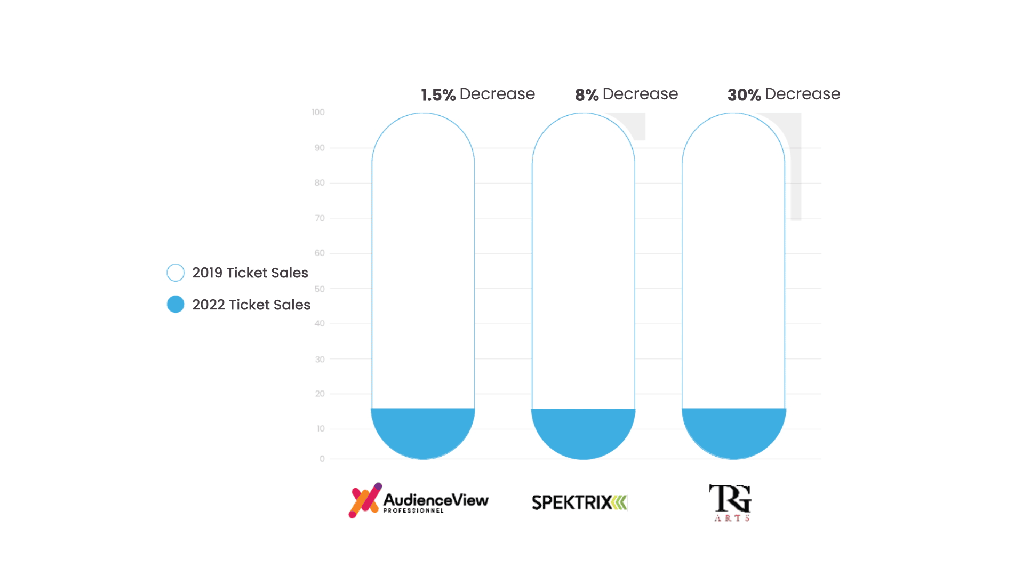 *data accurate as of February 2023
Even more impressively, our 50 most active* clients grew tickets sales a whopping 27%
* Client activity measured by amount of time spent on AudienceView Professional Software. Percent growth as compared to 2019 data.
AudienceView Professional clients have access to easy-to-use functionality that enables single ticket sales growth. From time-based dynamic pricing on bespoke seating charts to easy patron segmentation and email marketing integrations like MailChimp and Constant Contact, we have the tools to effectively sell more tickets. Additionally, clients can easily take advantage of TheaterMania – AudienceView's consumer brand – to uncover even greater growth, catching the attention of millions of additional engaged ticket buyers.
Growing Packages, Subscriptions & Season Ticket Holders
Most industry reports also tell the tale of dwindling package and subscription sales. A recent study conducted by JCA Arts reported that subscription sales in 2022 were down 32% from previous seasons.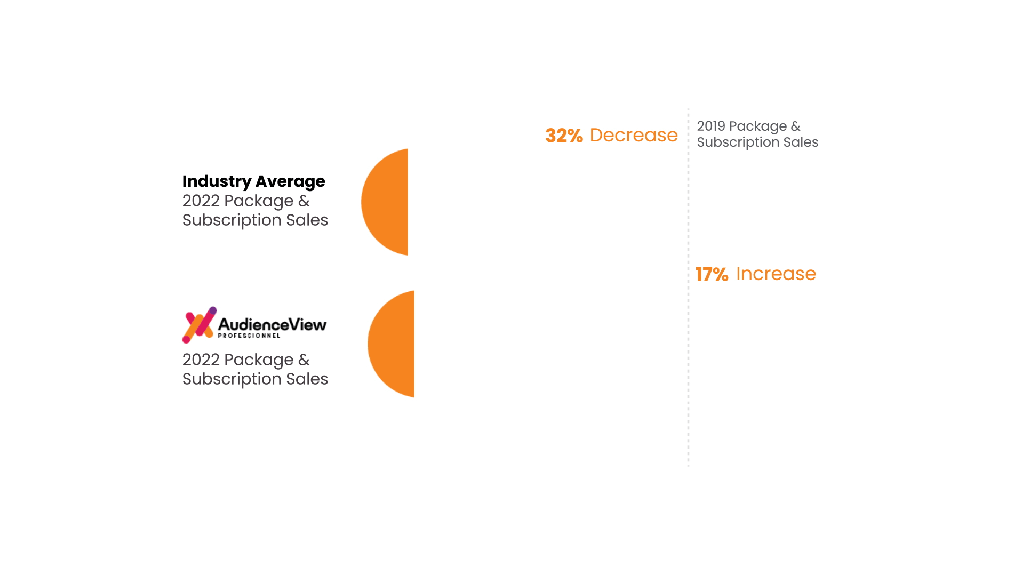 Why is it then that AudienceView Professional clients have grown subscription and package revenue since 2019? Clients who have taken advantage of AudienceView Professional's robust suite of package and subscription functionality since 2019 have seen their package & subscription sales grow by 17%, on average. That means they're outperforming the industry average by nearly 50%!
Additionally, all our clients who are selling packages and subscriptions – which is now over 50% of clients – have grown average package prices by 10% since 2019.
AudienceView Professional enables clients to completely customize their package, subscription and season pass offers. From auto-renewing flex passes for any number of shows in a season, to fixed subscriptions and memberships with reserved seating, to memberships and flex passes for any number of shows in a season, our clients choose what serves their attendees best. We know that converting attendees into subscribers takes dedicated nurturing. That's why our centralized CRM makes it easy to segment, assign patron-to-patron relationships, and create custom patron tags, for easier relationship building.
Increasing Donations
Garnering donations can be challenging at the best of times. With performances canceled, empty seats, and tighter purse strings – COVID-19 made donation growth nearly impossible.
Yet for most AudienceView Professional clients, a return to donation growth was swift and painless. When reviewing the 800+ AudienceView Professional clients who have used the platform to fundraise since 2019, we found that nearly two-thirds have grown their donations! What's even more amazing, is that on average – those clients grew donations by over 220%.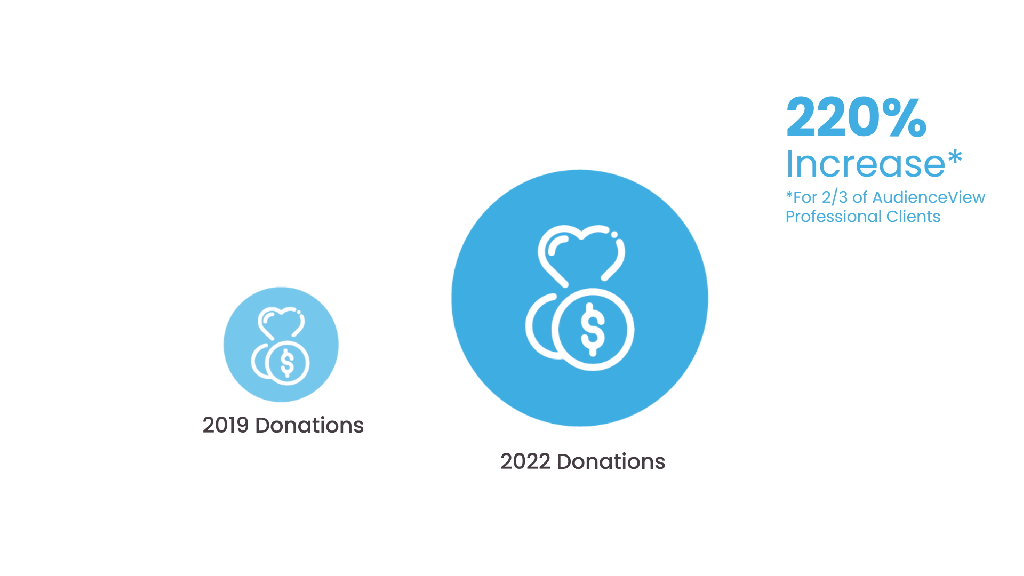 Clients can customize the donation experience to best serve their audience-base. For example, ticket buyers can be unobtrusively asked to add a donation during the checkout process, anonymously or named. Inside the CRM platform on AudienceView Professional, clients use the donor profiles to easily identify fundraising opportunities. Custom tagging and patron relationship building on donor profiles also allows for easy segmentation for groups such as likely donors, lapsed donors, or even family & friends of donors. Batch-adding tasks to donor profiles or entire segments makes managing outreach simple, organized, and perfectly tailored to your organization. Need to quickly identify top-level donors & assign outreach tasks to your team? No problem, AudienceView Professional can do just that.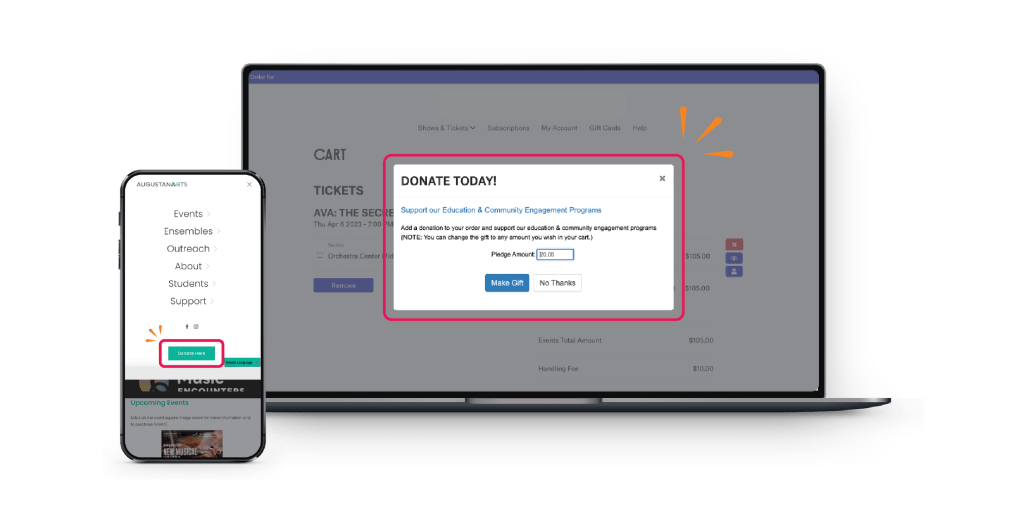 Simply put, AudienceView Professional puts the best tools at our clients' fingertips. If you are ready to learn more, fill out the form below and a member of our team will be in touch shortly!