"Music is the social act of communication among people, a gesture of friendship, the strongest there is." – Malcolm Arnold
Due to the nature of their sophisticated patrons, symphonies and orchestras require advanced ticketing and fundraising solutions that cater to their unique needs. AudienceView Professional offers a perfect blend of ticketing solutions, fundraising capabilities, and robust back-end reporting to meet these needs.
Fundraising & Donor Relations
AudienceView Professional offers an all-in-one solution for ticketing and fundraising. It comes equipped with a wide range of fundraising features, such as one-time gifts, recurring donations, pledges, soft credits, and matching gifts. Users can easily configure these features and create customized donation campaigns that attract more donors. The software also allows organizations to track donor activity and engagement, providing valuable insights into their fundraising efforts.
Learn How the Falany Performing Arts Center Engages Their Donor Base
Reports
AudienceView Professional offers an easy-to-use but powerful reporting system. The system can be customized to meet the specific needs of an organization, providing insights into financial data, customer demographics, and marketing analytics. User-friendly and easy to comprehend, this allows clients and volunteers to generate reports quickly and efficiently. This feature is especially useful for orchestras and symphonies, who work with limited funds and strict budgets, that need to make informed, strategic decisions based on accurate data.
"Cultivating relationships with our donors is a top priority for us. We can easily pull up lapsed donors' reports and quickly see donor history in a snapshot. We are looking forward to our next steps, such as creating patron packages and memberships."
Angelina M.
AudienceView Professional user
Memberships and Subscriptions
Today's audiences expect more than just a great performance; they demand a seamless experience from start to finish. AudienceView Professional provides flexible ticketing options, a seamless purchasing process, and ticketing protection, all of which are essential for creating an outstanding attendee experience. The software allows users to create tailored packages and subscriptions for their customers, resulting in a 2.7x increase in clients selling such offerings since 2019. Over 60% of clients now offer packages and subscriptions, up from less than 25% in 2019, with package sales growing 3x faster than single ticket sales.

Maximizing Flexibility and Revenue: The Power of Packages and Memberships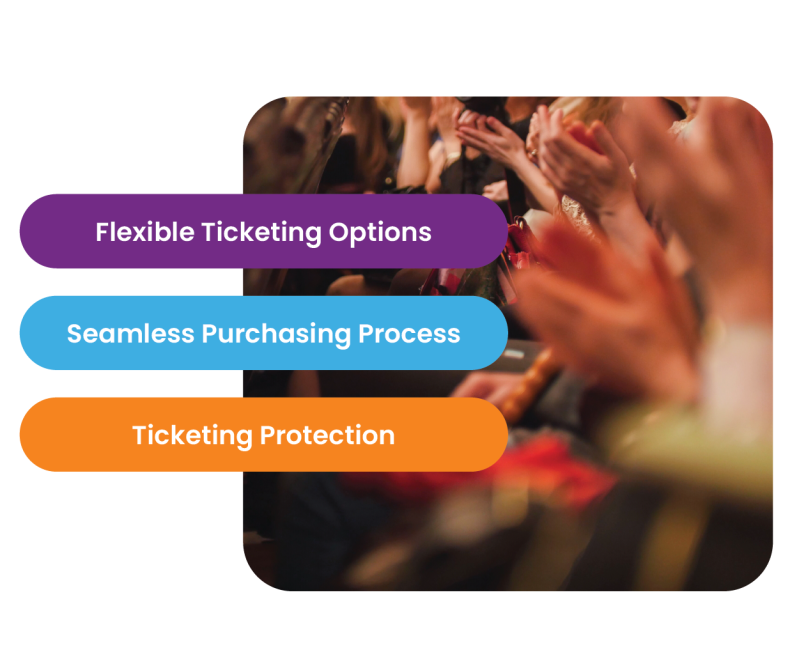 "We regularly use the donations feature to help raise money for local non-profit organizations. These donation asks are included in the ticket purchase flow and provide our customers with an easy opportunity to support causes that are important to us. And it's equally easy for us to pull the report to pay out the donation when the campaign ends."
Selene Arca
Co-Owner, The Clocktower Cabaret
Read More About The Clocktower Cabaret's Success with AudienceView
AudienceView Professional is a great fit for symphonies and orchestras looking for an all-in-one solution for ticketing and fundraising. Its advanced fundraising features, easy-to-use reporting system, and flexible membership and subscription system make it the perfect software for organizations looking to provide their customers with an unforgettable concert experience. With AudienceView Professional, orchestras and symphonies can streamline their operations, attract more donors, and grow their business in a sustainable way.