Antaeus was a giant in Greek mythology. He was incredibly strong and undefeated in combat – as long as he maintained a physical connection to the earth. This symbolic figure inspired the name for Antaeus Theatre Company, which was founded in 1991 as a project of the prestigious Center Theatre Group.
The co-founders brought together a remarkable group of classically trained actors from Los Angeles to create an ensemble that today rivals any other in the world. Many are well-known to audiences because of their work on stages across the country or in film and television. The belief and driving force of this actor-driven company is that staying grounded in one's love of theater makes you a better actor in the long term.
Ana Rose O'Halloran joined Antaeus as Executive Director in 2015. She arrived in the midst of a capital campaign that was funding the construction of a new building, the Kiki & David Gindler Performing Arts Center, in Glendale, California. On top of successfully overseeing the massive construction project, which doubled the Antaeus house size, O'Halloran knew that more advanced technology was critically important to help save time, create efficiencies and better understand attendees. Simply put, Antaeus needed a reliable live event ticketing solution that would streamline efforts and simplify their business.
All-in-One Solution
Before moving to AudienceView Professional (formerly OvationTix), O'Halloran's team was spending far too much time trying to get data out of their system.
"We were spending hours every week putting together a weekly ticket sales report, trying to figure out how we were doing," says O'Halloran, adding that her team can now get exactly what they need in 15 minutes or less.
"Our old software also didn't offer a ton of customization as far as tracking donors," she says. "And we wanted to find a solution that was both development and marketing friendly."
And in AudienceView Professional, they did.
"I think it's a lot more user-friendly and pulling info on patrons is a lot easier…We are saving staff time with pre-show and post-show emails too. Previously, we were building and sending emails through another system and it was taking a lot of time. Now everything happens automatically, so we don't have to think about it once we build them the first time. We also don't have to worry about surveying on the back end because we include that in the post-show email that goes out," explains O'Halloran, who adds that this is freeing up one to two hours every week.
And just like the show must go on, AudienceView Professional has removed the worry about relying on individual staff members to manually build and send these emails. Now O'Halloran knows that all Antaeus attendees will have a consistent, positive and engaging experience every time they buy a ticket.
"We also reworked the way that we're welcoming new email subscribers to our list. We've implemented a promo code, so we're reaching out to people with an offer as soon as they sign up for our mailing list the first time," she says. "We're giving them a discount to try and get them in the door because we were finding a lot of people would sign up for our list and then didn't ever attend, so we're trying to get them in right away…They don't get the email if they've already signed up for our mailing list, so it has a fail-safe…and I know people are using it because we can track the promo code, which we update for every show."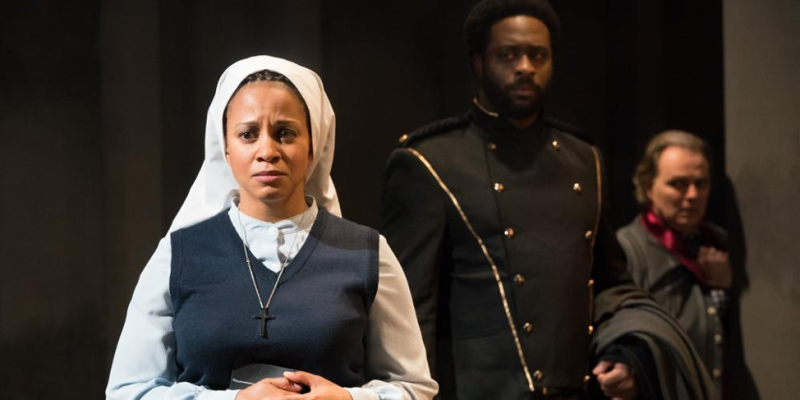 Easy Analytics
AudienceView Professional is helping O'Halloran keep her Board of Directors in the know when it comes to attendees and filling the house.
"When we moved to Glendale, which is not that far away from the city we were in before, we were filling a smaller percentage of our new performance space. It wasn't that we'd had a decline in audience size, it was because our house size had doubled. There was a concern that our new community wasn't attending, but I was able to easily show our Board that we were doing a great job reaching patrons in Glendale by pulling a report of attendees by zip code. In fact, Glendale was one of our top-performing zip codes," says O'Halloran.
Antaeus productions sometimes use partner casting, when two casts rehearse together and take the stage in alternate performances. It's not like having an understudy for each role because all the actors rehearse and perform equally. AudienceView Professional is helping Antaeus to analyze sales patterns for these shows.
"We've been examining whether this is a model that will work for us in the future," explains O'Halloran. "There was a belief internally that patrons would come to see the show with both casts, so by going to single-cast productions, we would lose considerable revenue. I've been able to pull reports of how many repeat attendees [there were] from the same production, but there are not as many as some of our team had hoped."
Indeed, the ability to pull actionable analytics has allowed the organization to make data-driven decisions versus relying on a gut feeling.
"We've been pulling a lot of data about repeat attendees versus new patrons and we've also been targeting discounts or offers to people based on the information…We're definitely able to see that people are taking us up on these offers."
As Antaeus actors and audiences continue coming together for shared experiences through timely and timeless works, AudienceView Professional is working quietly behind the scenes – truly simplifying the business of live events.