There's hope on the horizon.
The July 2021 COVID-19 impact report, generated from the survey results of more than 3,400 members of the TheaterMania community, includes uplifting evidence that people are ready to return to theaters.
More than half of the respondents (55.4%) indicated that they were actively purchasing tickets in June 2021 for live events in the future – a stark difference from the mere 13.3% that were buying in December 2020.
And while this is a promising boost for the earned income portion of the revenue mix for nonprofit arts and cultural organizations, philanthropic contributions remain a significant factor in a healthy rebound as we exit the pandemic.
The data in the survey also indicates continued generosity from theatergoers, with 69.4% of respondents sharing that they've made a donation to a theater or related organization that supports the industry since the COVID-19 shutdown in March. That figure is only slightly down from the 69.7% of people that shared that they donated in our December 2020 survey.
With many nonprofit arts organizations counting on contributed income for 40% or more of their annual funding, it's imperative to review and reconsider your approach to online fundraising.
Our friends at the Patchogue Theatre for the Performing Arts (PTPA) – Suffolk County, New York's largest theatre – do an excellent job of leveraging the technology made available to them with AudienceView Professional to solicit donations from their community.
Here's a list of things PTPA does well that your organization should consider:
Prominent Calls to Donate
They have two prominent calls to donate – CLICK TO DONATE and GIVE TODAY – above the scroll on their homepage. Thanks to their website's sticky menu, visitors are always just a click away on each page of their website from accessing their fundraising page.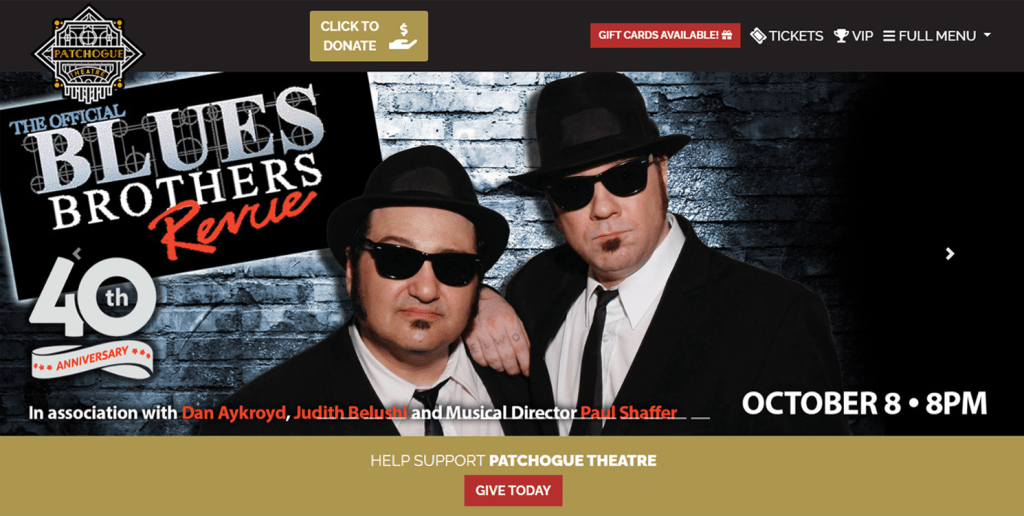 Offer Different Ways to Give
They offer four different ways to give:
PTPA Relief Fund – The more traditional monetary donation in support of the organization's recovery efforts.
Your Name in Lights – Opportunity to rent the theater's marquee to share a special message.
Sponsor a Seat – $500 or $1,000 theater seat sponsorships that include a plaque.
Wall of Fame – 100% of the money raised from the Wall of Fame goes directly into Patchogue Theatre's programming fund.

Make the Ask During the Ticket Purchase Flow
They make the ask during the ticket purchase flow. After seats are selected and confirmed, they immediately ask customers if they would like to donate.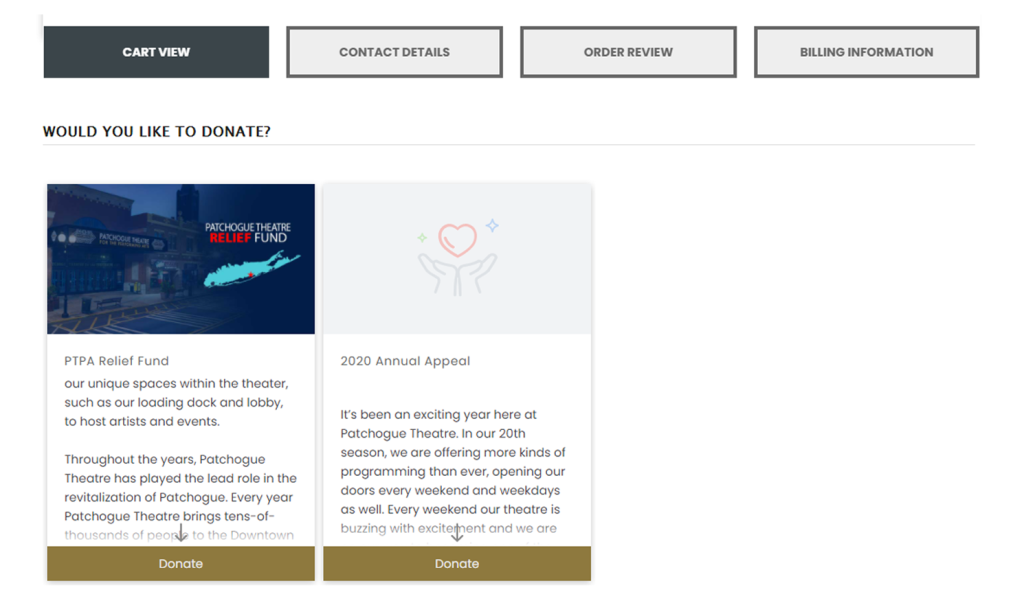 Capture Donations in the Same Transaction
They accept donations in the same cart as the ticket purchase. Customers can make a donation and buy tickets in the same transaction – a frictionless process that has proven to increase the amount of money earned per order.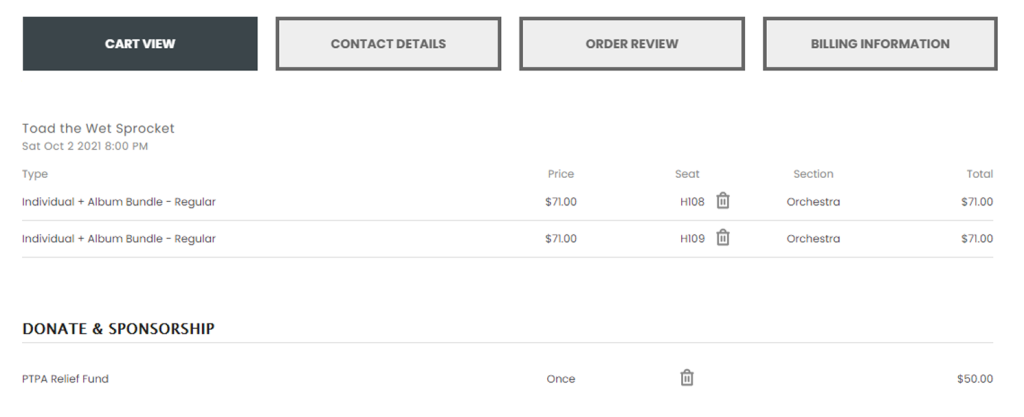 Reiterate the Importance of Donations
They stress the importance of donations with very specific language: "Our ticket revenue is not enough to cover the high costs associated with bringing in national acts. Your support will help Patchogue Theatre remain a leading performing arts venue on Long Island for generations to come! Secure your personalized plaque today."
Your loyal patrons and community members want to support the arts! Make the ask and make it easy.