There are some incredible numbers – and people – behind the recent successes at Hale Centre Theatre in Sandy, Utah.
In 2018, the organization celebrated its first full year in a new, significantly larger venue that showcases performances in the round, which is fairly uncommon in American theatre. The organization had record attendance – more than double the annual count from their previous facility – with more than 560,000 patrons attending a show. This includes 29,078 season ticket subscribers who started buying tickets 18 months in advance of the season.
The efforts of 63 full-time employees, 150 regular part-time employees and regional professional actors who filled more than 500 roles contributed to an incredible 751 out of 751 sold-out performances. How did they do it? We asked Michael D. Fox, Chief Operations Officer, to share the secrets of their success.
In Conversation: Michael D. Fox
There are several things that make Hale Centre Theatre unique. In addition to the brilliant viewing from each seat, we've built one of the most technologically advanced theatres in the world. The spectacle of moving stages and flying apparatuses combined with great talent and seats priced at just $44 for adults keep patrons from every county in Utah coming back. The art on stage reflects our community and its diversity in a way that is welcoming for attendees of all ages.
We see Hale Centre Theatre as a family – not just the people who perform or work here, but also the people who are attending. So, in our minds, it goes one step beyond community – it's family. One of our co-founders, Grandma Hale, always used to say she wanted people to feel like they had been welcomed into her living room when they attended and that's the feeling we still work to create today.
Our success is definitely due to that family atmosphere. Relationships with young people are thoughtfully cultivated. Members of the community are welcomed through charitable giving. The people who are on stage and backstage care so much about the art that they are creating as well as the customers they serve. And individual supporters tell their family and friends about their experiences.
We do everything we can to really capture that enthusiasm and encourage sharing through word of mouth advertising so we can attract new people. If a person with a ticket tells someone about us it's 100 times better than our billboard, so we really work hard to pull them in and get them to talk.
I think there's a lot you can do to get people to share their experiences at the theatre. We make sure there are banners in place that give people a hashtag to use so they will share a picture of their family or their date out with friends. Another great thing we do is to send an email after the show thanking people for attending and asking them to share a video clip of the show with their friends. We have a founder's club, which is for our higher donors, who get to come and experience a meal themed to the show before a production rather than just thanking them in a traditional way with a letter.
We have a YouTube series called HCT RAH, which stands for Real Access Hale. We have almost 100 videos from the last five years showcasing every aspect of making theatre. From auditions and how our stage moves to the journey of a costume and a day in the life of an actor. That series is a great way for our community to learn more about what we do and how we do it, so it gives them access as an insider.
While engaging with the community is important, there's nothing that makes word-of-mouth advertising work better than having great productions. The most money, attention and focus should go there; then we should be talking about how to get other people in the room.
Attracting new audiences is something that Hale Centre Theatre does extremely well – from our work with local schools and venue tours to facility rentals and charitable giving. The latter plays an important role in our mission to enrich lives through world-class theatre. It also supports our belief that the house should be full for every performance.
We had 751 performances in 2018, which was our first full year in this new facility, and we were basically 99.2% filled. Now to be fair, about 10% of the tickets for any performance are given away. We give away generously to our cast, crew and employees as a perk and to say thanks; they get to invite people to come for free. We also work very, very hard to fill any extra seats through charitable organizations. We focus on teachers, first responders and people who have active military members serving for the country. We give tickets to the community so that we can give people who might be a little bit underserved the opportunity to attend the theatre. We give tickets to every charitable organization that asks for support for a fundraiser. There is no criteria other than they are a 501(c)(3) and we are always happy to give tickets for a raffle or auction to help support the great charities in our community that do so much for us.
Every once in a while when we do have a few seats open, we will send an offer to a few season ticket holders at a time and invite them to give away a free pair of tickets to someone that they've wanted to share the theatre with. It's a great perk for them – they get to be the hero in their family or neighborhood and we get to introduce new people to the theatre. We 100% believe that we shouldn't have any open seats on any dates, so if we do have a few seats that aren't already sold, we work hard to give away tickets to make sure the house is full.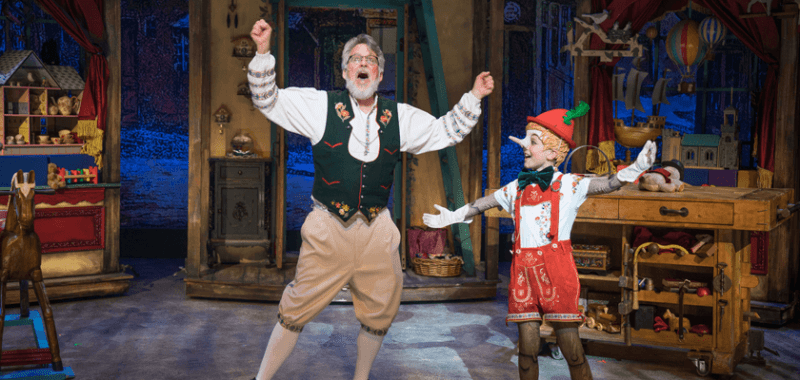 Getting young people to attend the theatre plays an equally important role in our mission. We pay attention to three specific things to attract these youngsters and help them develop a love of theatre. The first is choice of production to ensure the content is appropriate for everyone. To support this, we changed our child/youth rate several years ago, so everyone under 18 years of age pays half of what an adult pays.
One of the reasons we love having young people come is because young people don't come alone. So almost without fail, if we can have a show that is attractive to the young, we will have their parents and grandparents, and in many cases even aunts and uncles, attend as a family. That strengthens the bond we have with the adults who attend the theatre while creating a new audience.
We also use social media to show both young people and parents that Hale Centre Theatre can help teenagers date in an awesome environment. We actually promote the idea that Hale Centre Theatre is a teenage date night and can be a really great place to do something cool.
Anytime we have a youth production, we showcase at least eight matinees during the week for title one schools for free. Then we encourage kids to jump on social media and talk about it. This has a snowball effect because their friends tell their parents about it, and so on.
Audiences old and new want to experience great art. Part of that experience is getting your tickets to the show – and making the ticket-purchase journey easy and flexible plays an important role. With season tickets for example, patrons can commit and either choose to book their dates and seats at that time or wait until later.
We don't offer traditional subscriptions where you see the show in the same seats on the second Friday of every run. Instead, people have the flexibility of being able to say, "Well, I want to come on Monday night because it's my wife's birthday for this particular play, then on another play we're going to bring grandma, so we want to go on a Saturday afternoon." That flexibility has been key to keeping our family happy, that family of season ticket subscribers of about 29,000.
That core group comes eight or nine times a year, so they're a quarter-million of our tickets and it's really important for us to keep them happy. We offer our subscribers the flexibility to choose seats and dates when they're ready and then allow them to switch their tickets to a new date up until 48 hours before any production, which they can do free once per play. This has been key in making people feel comfortable giving us money 18 months in advance. We start our renewal process in April and May each year for a season that doesn't start until the next January and then plays all the way through that December. So, we're asking for trust ahead of time and that flexibility, which we can do with AudienceView Unlimited, is really important to keeping our family happy.
AudienceView is always here to help if you want to learn more about flexible ticketing and effective patron engagement strategies. Contact us today to chat with a performing arts expert.