In today's world, event-goers prioritize safety when choosing how to spend their entertainment dollars. This shift in consumer behavior has prompted event organizers to implement safety protocols that instill confidence in attendees.
Recent research findings suggest that safety measures, such as mask-wearing and proof of vaccination, remain paramount in the minds of event attendees. The data shows that a significant majority (56.4%) of survey respondents would only consider attending events where mask mandates are in place. Interestingly, proof of vaccination emerged as the primary safety protocol deemed essential by those surveyed.
Moreover, there is a growing skepticism surrounding the honor system regarding vaccination status. An astonishing 54.3% of respondents revealed that they would be reluctant to attend events that don't require attendees to provide proof of vaccination.
Proactive Safety Measures
WP Theater, a renowned theater company dedicated to supporting women and trans theater artists, is currently offering tickets for an exclusive experience called Welcome Home. This unique audio tour allows groups of up to four people to explore behind-the-scenes areas of the theater, including backstage spaces, dressing rooms, and the main stage, offering a perspective typically inaccessible to the public.
However, participation in this immersive theater experience comes with specific requirements. WP Theater mandates that all attendees must be fully vaccinated and present proof of vaccination upon entry to the venue.
Their event description page is transparent about these safety measures, emphasizing that limited-capacity audiences are welcomed, but proof of vaccination is a prerequisite for purchasing tickets and attending. WP Theater also assures attendees that all their staff members are fully vaccinated and will wear masks throughout the event.
Streamlined Verification Process
To enforce this policy, WP Theater utilizes AudienceView Professional's integrated Checkout Questions feature. During the ticket purchasing process, attendees are prompted to confirm that they, as well as all members of their party, are fully vaccinated and agree to provide proof of vaccination and a government-issued photo ID on the event day. This self-certification step is seamlessly integrated into the buyer's journey, appearing after customers add tickets to their shopping carts.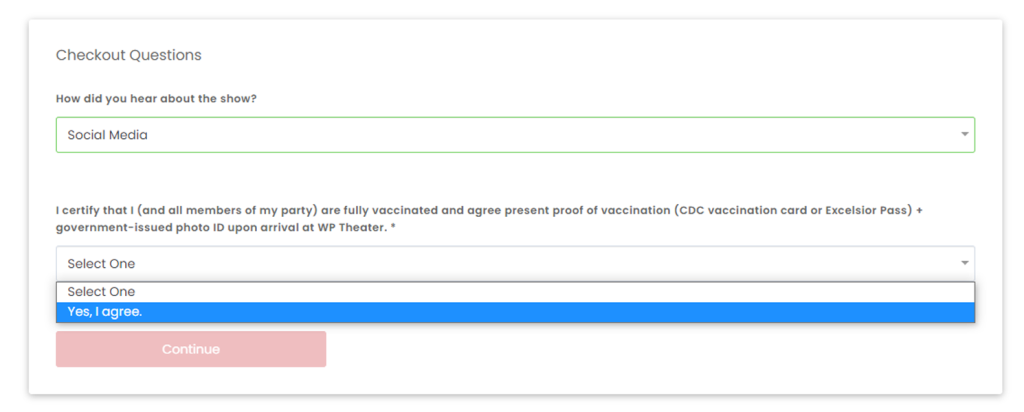 By incorporating this verification step into the ticket purchase flow, WP Theater effectively communicates its policy to attendees upfront, minimizing potential customer service issues on the event day.
Efficient Management with Checkout Questions
AudienceView Professional's integrated CRM empowers WP Theater staff to easily access answers to Checkout Questions. They can view responses by order, or event, or generate comprehensive reports exportable to CSV or Excel. Should they need to review specific order details, they can effortlessly access this information from the Questions tab on the order details page.
Diverse Applications of Checkout Questions
Beyond verifying vaccine status, Checkout Questions can serve a multitude of purposes. They can be tailored to gather information about how attendees discovered an event, confirm eligibility for age-restricted events, or accommodate dietary restrictions for dinner theater experiences.
For a more in-depth understanding of the Checkout Questions functionality, watch this brief video:
In conclusion, Checkout Questions are a versatile tool for event organizers like WP Theater, enabling them to enhance safety, gather valuable information, and provide a seamless ticket-purchasing experience for their patrons.