The 21,000-capacity Edgbaston Cricket Ground in Birmingham is one of the UK's largest and is the home to Warwickshire County Cricket Club. It plays host to the country's biggest match days, including Men's and Women's International Cricket and the infamous T20 Finals Day.
The Situation
In 2019, Edgbaston Stadium sought an all-encompassing mobile application for their venue and resident team, which could enhance the visitor experience through digital ticketing and concessions ordering, while also delivering a variety of engaging team content.
The objectives were simple – to provide an enhanced and safe ticketing experience for fans, maximize data captured from attendees and drive ROI (return on investment) and incremental revenue for the club.
To achieve these goals, Edgbaston adopted the AudienceView Spotlight app. The app provides a seamless and secure ticket access and transfer mechanism for visitors, while surfacing essential match day information and delivering ancillary revenue generating services like in-app seat delivery and click and collect merchandise ordering.
Because every visitor's experience at the stadium varies, so does the information and services each fan requires.
AudienceView Spotlight's powerful Audiences tool enables the venue team to create a personalized 'My Visit' feed for every single user, based on real-time ticket information synced from each users' profile. This enables the segmentation and personalization of content, updates and messaging towards each individual ticket holders.
The venue creates personalized app experience across general ticket holders, premium ticket holders and its members. 'Closest to your seat' information and food and drink ordering are surfaced based on a users' seat location and information specific to their ticket.
The Solution
Single Sign-On (SSO): An integrated SSO with the venue's ticketing provider, enabling customers to login with their existing ticketing account to access their tickets in the app.
Ticket Display: Integration of the venue's digital tickets within the app, complete with fraud prevention functionality and integrated ticket sharing – enabling customers to securely transfer tickets and for the venue to harness significant levels of data. Every visitor to the stadium can access a mobile ticket, including General Admission, Hospitality and Members.
Native Commerce: Through AudienceView Spotlight's native commerce tool, the venue is able to sell its retail products via their mobile app, as well as additional premium services like Merchandise delivery to premium areas.
Alongside the platform's Audiences tool, the stadium is able to take advantage of a potent combination of hyper-personalized communication and an easy native purchase flow.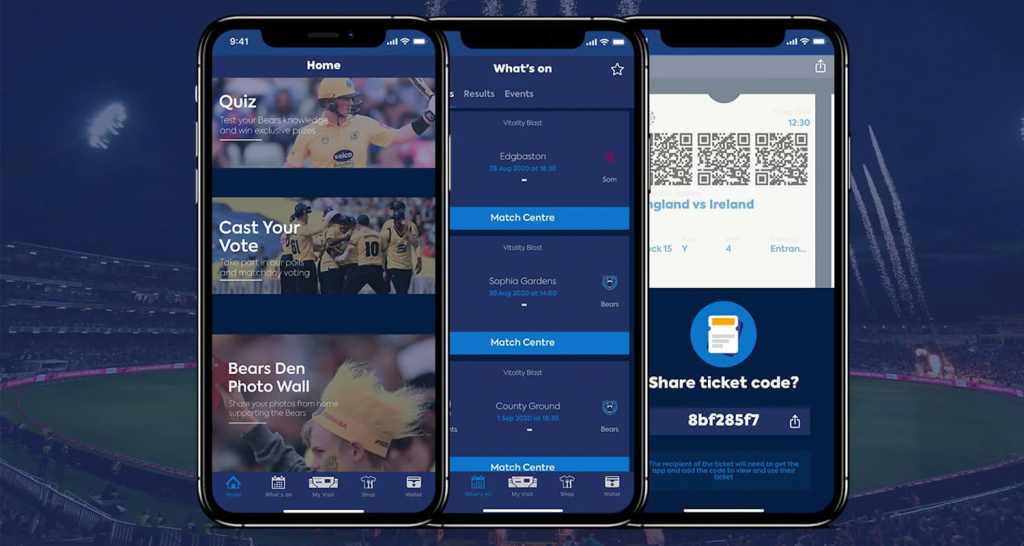 The Success
The Edgbaston Stadium app has seen strong success since its release in 2019, enabling hundreds of thousands of visitors to seamlessly access their tickets through the app on an annual basis.
By encouraging the transfer of tickets between visitors within a group, the venue has captured tens of thousands of additional customer email addresses that they are able to access as a result of integrated ticket sharing.
From a commercial perspective, the app is responsible for tens of thousands of pounds in incremental retail sales revenue on an annual basis.
Audience View is extremely proud to deliver these results for Edgbaston Stadium.