Engaging and Inspiring Through Theatre
The mission of The Denver Center for the Performing Arts (DCPA) is to engage and inspire through the transformative power of theatre. The organization does this by staging touring Broadway productions, producing Tony Award-winning plays, staging inventive Cabaret-style shows, creating unique immersive experiences, teaching theatre classes for all ages, and hosting memorable events in their dazzling venues.
To fulfill this mission, the DCPA generates revenue from ticket sales, class registrations, online private coaching, facility rentals and much more.
The 501(c)(3) nonprofit organization also solicits gifts from donors to help fund the wide variety of programming that the DCPA brings to the community. This contributed income is critical to the health of the DCPA, providing essential monetary support for:
Arts education for all ages
Theatre created by local artists
Memorable experiences for the community
DCPA offers a number of different giving options, including recurring monthly gifts, one-time gifts and a special fund in support of their current capital campaign, A Grander Opening.
Supporting the Arts Through Donor Contributions
In addition to these more traditional fundraising programs, DCPA is also encouraging private donors to name a seat to leave a legacy. They are offering an exclusive, limited-time opportunity for people to name a seat in their choice of three venues: Kilstrom, Singleton or Wolf theatres. The naming opportunity, which is in effect for 15 years, includes a seat plaque that holds up to three lines of text. The gift amount needed to secure a seat ranges from $1,000 to $2,500, depending on the venue and seat selected.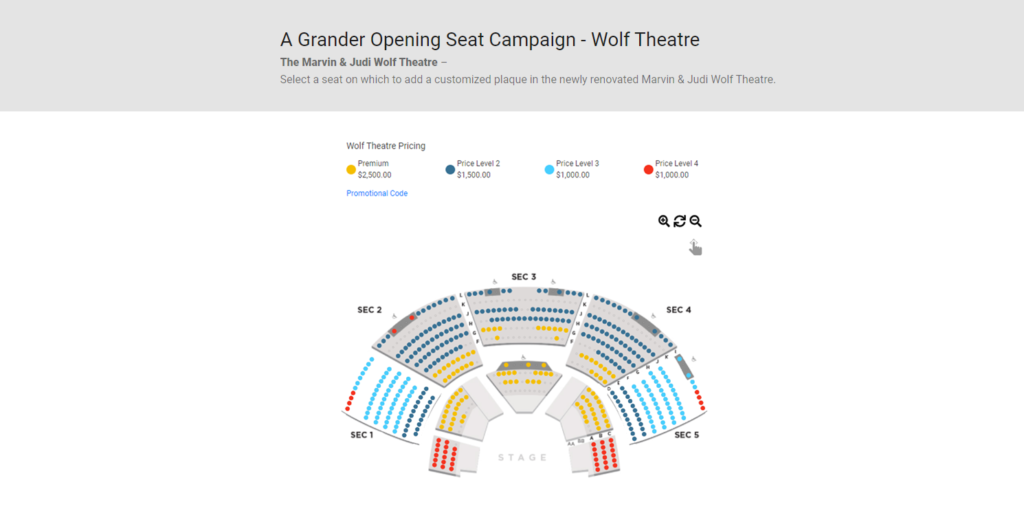 To best maintain inventory for this name a seat fundraising program, the DCPA is leveraging the pick-a-seat functionality made available to them in their box office ticketing and fundraising solution, AudienceView Unlimited. Donors that want to name a seat can select the theatre of their choice and pick their specific seat from the venue's map. If the theatre has different price tiers, the seating map will reflect that using different colors that are tied to the pricing key.
Once the donor selects their preferred seat, they add it to their cart and click proceed to checkout. They then enter the checkout flow, completing the necessary steps to finish the transaction, including:
Providing (up to) three lines of text for the seat plaque.
Selecting delivery details, which includes a notification from a member of the DCPA development team once the plaque has been installed.
Choosing a payment plan (12 monthly payments or 4 quarterly payments) or opting to pay the total order amount.
Completing the billing information.
Receiving an order summary to confirm successful payment.
Customization Drives Fundraising Success
The ability to fully customize the online donation experience, including unique microsites for each campaign, allows organizations like the DCPA to meet and exceed their fundraising goals.