Denver Center for the Performing Arts is proving William Shakespeare was right when he said, "All the world's a stage."
The organization is quickly gaining a reputation for its signature Off-Center programming which, according to Emily Kent, Director of Marketing, "is all about pushing the boundaries."
DCPA has held several successful Off-Center events to date, but none as large as its Camp Christmas extravaganza, which ran for 40 days during the 2019-2020 holiday season.
Camp Christmas, what's that? Good question!
Billed as being not for the faint of festivity, "it's an over-the-top, immersive journey through the celebration of Christmas from ancient Roman times through today. There are 15 different eras and environments, from Rococo to disco and into the present day," says Kent. "As people walk through, they get to learn the story of Christmas and the story behind many of our traditions."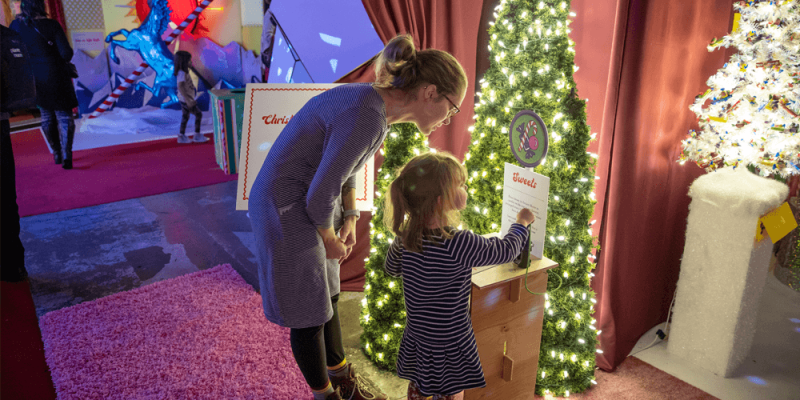 Pushing Boundaries
DCPA took immersive art to a whole new level by hosting the inaugural and magical Camp Christmas in a 10,000-square-foot former airplane hanger, just a short sleigh ride away from DCPA and yet as far away from a traditional theatre environment as one could get. The self-guided installation gave attendees the ability to create their own narrative and experience.
An Immersive Journey
"This was definitely pushing the boundaries in terms of what people think 'theatre' is, as have many of our other Off-Center productions. We're tested in new ways with these shows because they're immersive, because they're often off-site and because the audience is at the center of the experience. It challenges us to think in new ways for every one of these projects," says Kent.
With timed entry slots available every 15 minutes, for 10 to 12 hours every day in the four-day run, DCPA created an astounding 1,600 individual events within AudienceView Unlimited to sell via their online portal. More than 80% of all tickets were sold online.
In addition to creating the online ticketing journey, which went off without a hitch, there was plenty of work finding all the decorations – including a couple thousand ornamental Santas to be featured in a bar offering themed drinks – and preparing the glittering lightshow and jaw-dropping displays.
"It's a place to be social, to be merry, to enjoy some festive cocktails and to experience the art and the story in a totally different way," says Charlie Miller, DCPA Off-Center Co-Founder and curator. "My hope is that Camp Christmas becomes a new holiday tradition – one that is nostalgic, one that is full of wonder. It's inside, so you don't have to bundle up, and most of all, it's really, really fun."
There were also literally hundreds of "Instagrammable" opportunities to take photos and share them on social media via the #CampChristmas hashtag.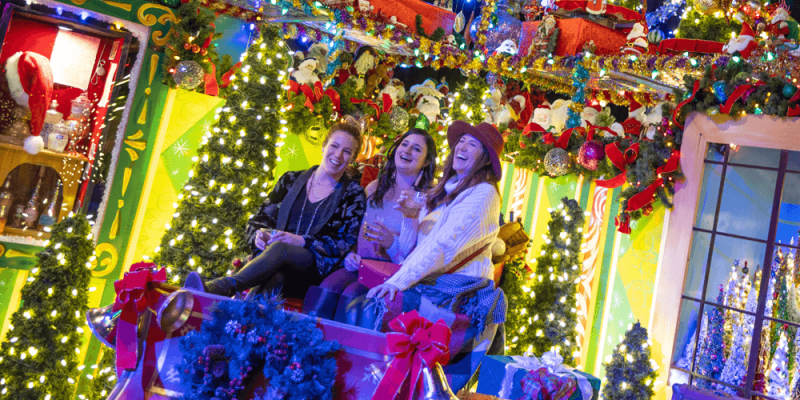 The sheer size of the installation was different than any other Off-Center event DCPA has ever produced. The previous record for attendance was approximately 8,000 patrons. By the end of its run, Camp Christmas had booked just under 70,000 tickets, all for an affordable price of $21 or less.
"The majority of patrons bought in advance," notes Kent, "but we got a lot of walk-ups too. We changed our communication midway through the run to encourage people to buy early, as folks were beginning to get turned away at the door. We had some people showing up on the wrong days and times too, but we were as flexible as possible to get them in as soon as there was a lull in activity."
A mobile box office proved to be of tremendous help.
"A couple of our colleagues in the IT department built out a mobile box office," says David Tschan, Director of Applications and Data. "It's all self-contained in this big black cooler-looking case. It has a VPN device that connects directly back to our network so that we can hook up our laptops and scanners like they were here at DCPA even though they're 15 miles away. We can do everything at our remote box office that we would be able to do locally. We can print on paper, we can print on tickets, we have full access to the network, full access to the ticketing system, full scanning and the telephone. It's just as if you were sitting at your desk."
Kent continues, "We sold timed entries every 15 minutes. Our longest day was 53 entries and our average day was around 40. Each time we allowed approximately 60 people in at a time. From there, it would take about an hour to work your way through the entire installation."
Before leaving the event, visitors had the opportunity to visit a gift shop chock full of fun Camp Christmas merchandise.
"We had over 50 different types of merch being sold, everything from t-shirts to lightbulb necklaces, antlers and coloring books. We even had a line of custom, made-by-the-creator, ugly Christmas sweatshirts. Each one was beautiful in its own way," says Kent.
Camp Christmas is one of those events that can keep on giving after the holidays, too, as it exposes DCPA to a larger, non-traditional audience; some of whom may go on to attend other Off-Center events or traditional programming. 41% of the attendees were entirely new to DCPA.
"Our Off-Center patrons tend to be younger on average, "says Kent. "Camp Christmas is also interesting because it's family friendly. Off-Center has not really done a lot of programming in that space, so our Camp Christmas customers might look pretty different from our typical Off-Center attendees. We have learned that the content of the production is what's most important over the line of programming in which it falls. So, because this is a family-friendly show, the audience it appeals to might have more in common with our other family-friendly DCPA shows versus some of our adult immersive work."
DCPA also didn't forget about the man at the center of all this festive fun! Santa himself was on hand every Saturday morning. He told AudienceView he wanted to be there more often, but he gets kind of busy at that time of year.
"What better way," says DCPA, "to come in from the cold…and get wrapped in the ooey-gooey, odd and sweet rituals that have brought light to the darkness of winter for thousands of years."