ENGAGE YOUR CUSTOMERS WITH AUDIENCEVIEW PROFESSIONAL
Communicate With Your Customers and Grow Patron & Donor Relationships
AudienceView Professional gives you a powerful toolkit to build, manage, and deliver communications with your patrons and donors. From the insights you need to identfy who and when, to the partnerships and built-in features to action the what and how – out platform has you covered.
Effectively Nurture Existing Relationships
From patron to donor and donor to member – evolving the relationship you have with your customers is how your grow your contributions and attendance. Our platform puts you in control of nurturing those relationships, while making it easy to track and action all the steps that go into growing a lasting relationship with each patron, donor, and future board-member.
Easily network and develop new board members.
View and track high-level donors by event to provide a more personal experience.
Quickly view "Who's Coming" list of view "Upcoming Events" by patrons or donor.
Delight donors with custom donation acknowledgement emails & letters.
Nurture patrons with custom pre & post show emails.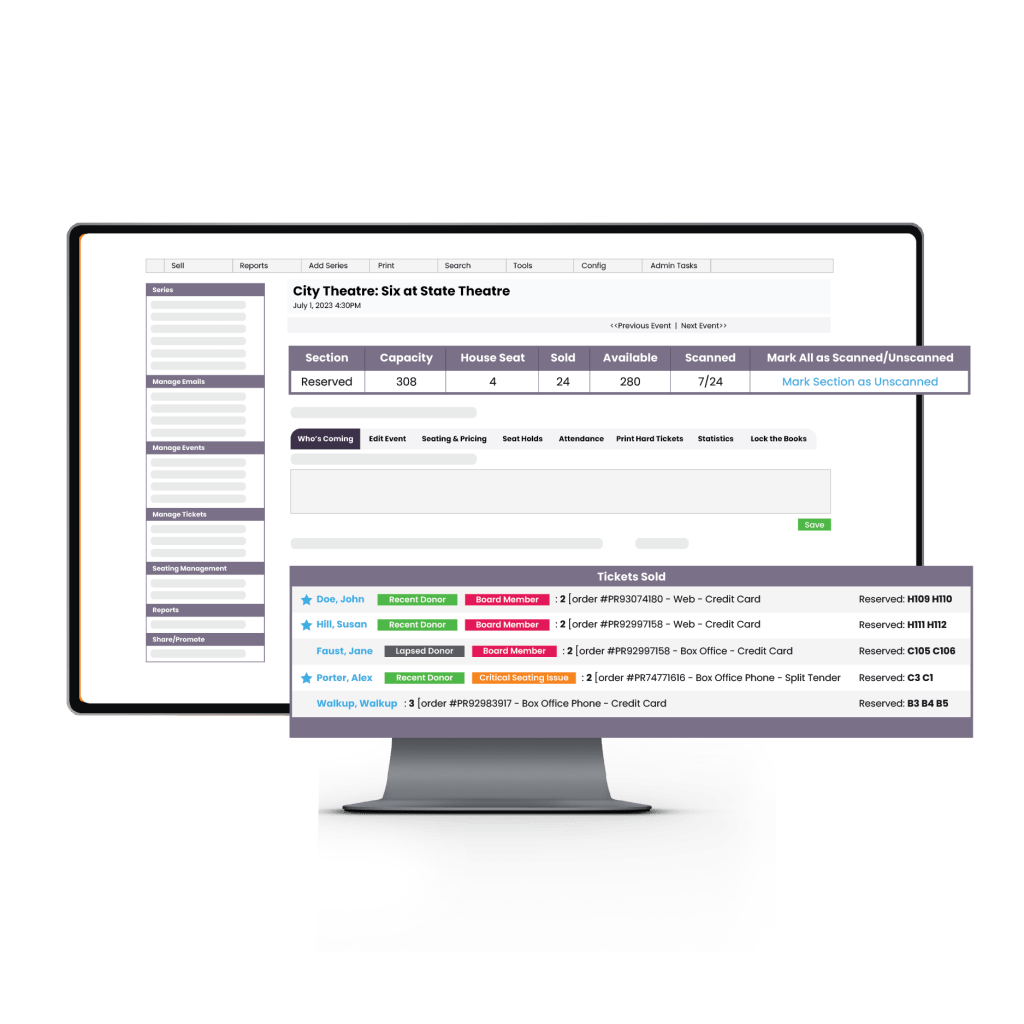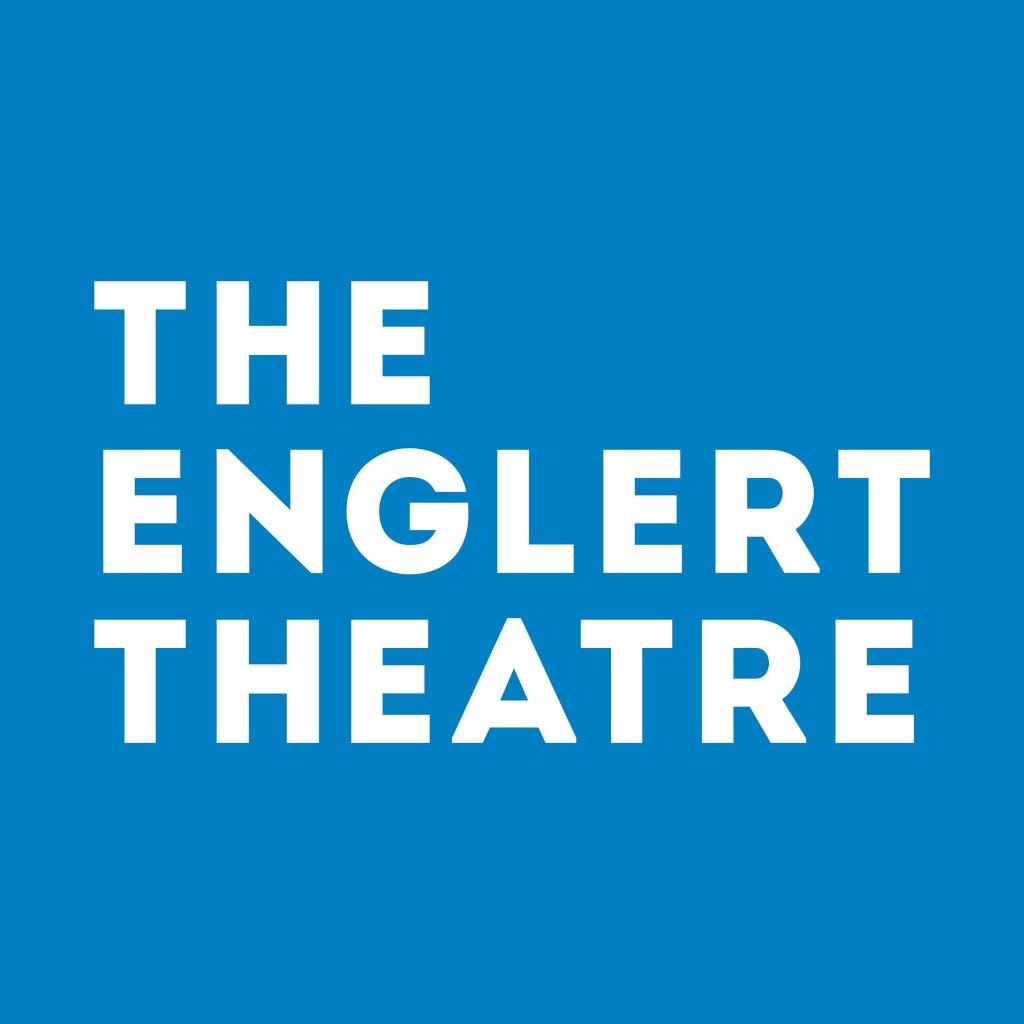 "All of the decisions that we make on a day-to-day basis regarding show promotion are coming out of the data that's coming from AudienceView Professional. That's been a huge benefit to us. We are able to look at that data in real-time, whereas before it was so difficult to interpret what we might do on a monthly basis."
John S
Executive Director
Deliver Content with Best-In-Class Partners
With all the rich insights and trends you garner from our CRM tools, you'll need an easy-to-use and effective content management and delivery system. That's why AudienceView Professional partners with the 2 leading email marketing platforms, Mailchimp and Constant Contact. Our partnerships enable you to find your market with the powerful segmentation in AudienceView Professional and engage that market with purpose-built email marketing platforms.
Mailchimp and Constant Contact integrations in Professional.
Easily export segments or cohorts to build and execute campaigns with our partners.
Easily track engagement in Mailchimp or Constant Contact and batch upload custom tags to create new behaviour-based cohorts.


Track and Action Customer Interactions
Finding that communications sweet spot between making your patrons feel valued and making them feel bombarded can be tricky. Especially if you're tracking all your channels like email, phone outreach, and in-person interactions separately…or simply at all. With AudienceView Professional, you can centralize your interaction history and plans in one place, directly on your patron & donor profiles. You can even report on those fields, create custom tags, and cohort your patrons into personalized communication cadences.
Add individual or batch tasks to patron, donor, or household profiles.
Assign tasks to team members and track completion.
Record any past & future interactions, email, phone, or in-person.
Report on interactions and create custom tags and cohorts to personalize your communications plans.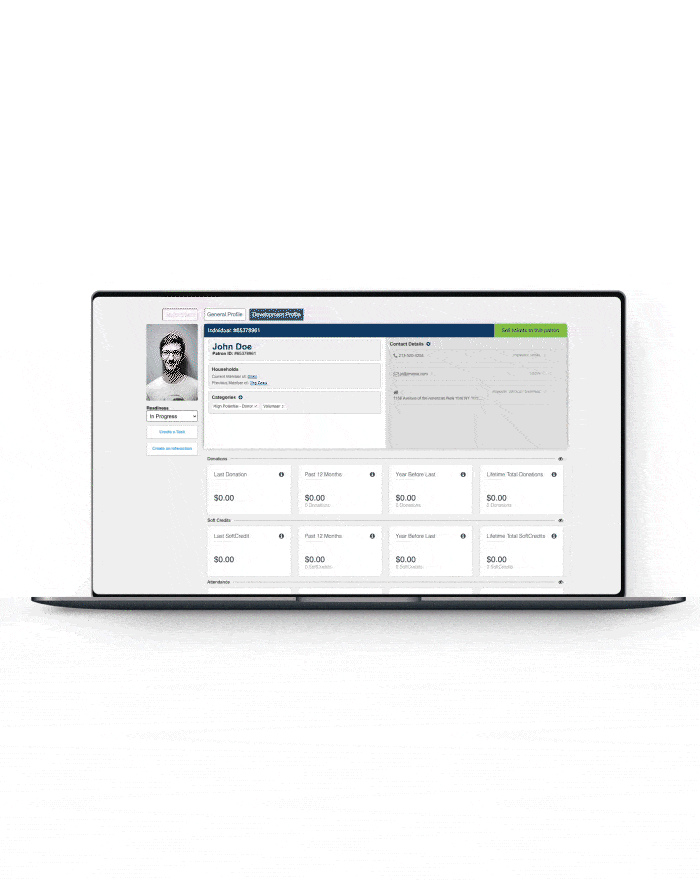 Want to see more? Questions?